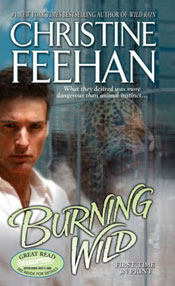 "If you pick just one book this year to read, make it this stunning story of survival.."
-- Coffee Time Romance
Born into a world of twisted monsters, Jake Bannaconni is shaped and molded into a cold, revenge driven man. Honed in the fires of hell, he controls his world and rules with an iron hand. He has everything and anything money can buy. He's ruthless, merciless and considered a man to leave alone. His hidden legacy, that of a shapeshifter, makes him doubly dangerous in the corporate world.

Emma Reynolds is a woman who knows how to love and love well. When their two worlds collide, Jake's plans for a complete take over, may just come tumbling down.

Click Here to Read Chapter 1
Release Date: April 28, 2009
Number of Pages: 480 pages
Publisher: Jove
Language: English
ISBN: 0515146234
---
~ORDER BURNING WILD~
---
~AUTHORS NOTES~
I loved these two characters very much. The story is very emotion driven, and at times shocking. There are parts of this book that will be controversial and definitely, for some readers, probably not a good read, but it is Jake's story and I stayed as true to the repercussions of a traumatic childhood as possible within the realms of a paranormal world. While not for everyone, I think many readers will enjoy the story of one man's discoveries on his path to finding what's important in life.
---
The Burning Wild Teaser was made by COS Productions. It is available in the following formats:
---
~BURNING WILD JIGZONE PUZZLE~
---
~BURNING WILD BESTSELLER LISTS~
Thank you so much to all of my readers who helped make Burning Wild a #1 New York Times Bestseller upon its release!!!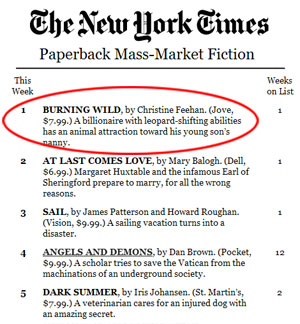 #1 New York Times Bestseller List
Publishers Weekly Bestseller List
USA Today Bestseller List
B&N Bestseller List
Borders Bestseller List
Walmart Bestseller List
Washington Post Bestseller List
ABA IndieBound Mass Market Bestseller List
---
~BURNING WILD REVIEWS~
Romance Junkies
Blue Ribon Rating: 5
Reviewed by Angel
Two people who have nothing in common find a neutral ground that includes a home and children. Can they also find the love to make their family complete?

Jake Bannaconni hasn't had what you would call an easy life. Despite the fact that he is a billionaire with money to spare and women falling all over him, he doesn't give his trust easily. His life is completely turned upside down when an accident leaves him with a baby and pregnant widow. Has Jake finally found the love that he can trust and can he accept the beast that lurks below the surface?

Emma Reynolds has the worst day of her life when she loses her husband. Now she is alone and pregnant and the sexiest man she has ever met is asking her to help him with his new son. Emma is at a loss over what she should do, but Jake steps in and takes control and soon has made himself irreplaceable in her life. However, could they have something more if Jake would just trust her?

BURNING WILD is a phenomenal story with captivating characters and a stunning plot that will keep you turning the pages. I could not put this book down until I finished it and found myself engrossed in the tale of Jake and Emma. The shape shifter element makes the story that much more intriguing. Jake is the ultimate dominant male and became the man he is from childhood circumstances that molded his present psyche. Emma is our sweet and innocent heroine who has lost so much, but has so much to gain. The emotions in BURNING WILD are intense and you will go through each climatic scene along with the characters. Love scenes are very passionate and will leave you breathless in anticipation of what will come next. Christine Feehan knows how to weave a tale of action, suspense and paranormal passion that has earned her so many fans and keeps bringing new ones.
Coffee Time Romance
Rating: 5 Cups
Reviewed by Danielle
Burning Wild, which is a part of the Leopard series, can be read as a standalone. Ms. Feehan has outdone herself in her writing, bringing the story of two people who have survived tragedy together in this sensational novel. The horrible abuse that Jake is raised with brought such an air of sadness; as he got older, his naïveté toward everyday happiness was such a contrast with his bad boy personality. How a woman like Emma, someone beautiful from the inside out, brought the simple pleasures into his life was so achingly and exquisitely told, it left me breathless with wonderment. If you pick just one book this year to read, make it this stunning story of survival that will have your heart aching, tears tracking down your face, and at times make you smile from ear to ear.
Romantic Times Magazine
Rating:

Reviewed by Jill M. Smith
The harm inflicted by a tortuous childhood makes superstar Feehan''s latest hero emotionally damaged in the extreme. Building layered, characters is one of Feehan's major skills, and both of these protagonists come alive in a story that spreads out over a number of years. As always, you can expect danger and excitement punctuated by sparkling passion. Feehan doesn't disappoint.