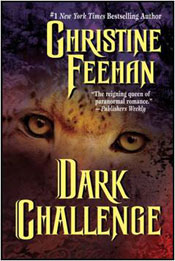 Was She More Than His Mate?

Julian Savage was golden. Powerful. But tormented. For the brooding hunter walked alone. Always alone, far from his Carpathian kind, alien to even his twin. Like his name, his existence was savage. Until he met the woman he was sworn to protect…. When Julian heard Desari sing, rainbows swamped his starving senses. Emotions bombarded his hardened heart. And a dark hunger to possess her flooded his loins, blinding him to the danger stalking him. And even as Desari enflamed him, she dared to defy him - with mysterious, unparalleled feminine powers. Was Desari more than his perfect mate? Julian had met his match in this woman, but would she drive him to madness…or save his soul?
Click Here to Read Chapter 1
Release Date: November 2000
Number of Pages: 390 pages
Publisher: Love Spell
Language: English
ISBN: 0505524090
Order Mass Market Paperback

Amazon.com
BarnesAndNoble.com
Walmart.com

printable order form for bookstore


Order E-Book

Amazon.com (Kindle)
BarnesAndNoble.com (Nook)
ItunesApple.com (Ipad)
Ebooks.com (various devices)


Order Large Print Hardcover

Amazon.com


Dunkle Sehnsucht des
Verlangens
Dark Challenge in German

Amazon.de


UK Dark Challenge

El Desafio Oscuro
Dark Challenge in Spanish

Amazon.com


El Desafio Oscuro
Dark Challenge in Spanish

Tienda.CyberDark.net
BarnesAndNoble.com
Walmart.com


Audio MP3

BarnesAndNoble.com

Julian has been asked to warn a young singer that she has been put on the hit list of a group of vampire hunters. She has a beautiful, haunting voice and her eccentric ways have attracted the wrong kind of attention. She travels with a band, the Dark Troubadours, consisting of three men and another woman and a couple of not very tame leopards. Much to his shock, Julian discovers a group of missing Carpathians. Desari is an ancient, with the full powers of an ancient female. He is the first Carpathian male who lays claim to a woman of equal power. This is a story of love and discovery. Two strong very territorial males find themselves in close quarters protecting the woman they love. Desari and her unique gifts are a true challenge for a powerful Carpathian male.
This is the first of the trilogy I wrote within the Dark Series. I wanted to include stories for each of the band members. Dark Challenge starts the trilogy, it is continued with
Dark Fire
and ends with
Dark Melody
, which contains the reunion of all band members and their families. Due to word count I could not do justice to the stories and include the reunion so I decided on a continuation of three books. I hope you enjoy them!
---
~DARK CHALLENGE FAQ's~
FAQ: Who is the male cover model on the original cover of Dark Challenge?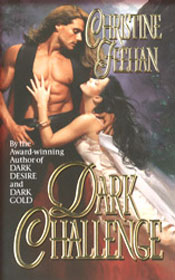 The male cover model on original cover of Dark Challenge is John DeSalvo. We would like to give credit to the female cover model as well, but still do not know her name. If you can help by providing this information please email: christine@christinefeehan.com.
FAQs: Is that Dark Challenge I saw in Kate and Leopold?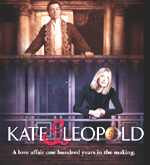 Yes, if you look closely you can spot Meg's assistant reading Dark Challenge!
---
~DARK CHALLENGE AWARDS & HONORS~
Honorable Mention for the 2000 PEARL Award
for Best Shapeshifter
Finalist for 2000 PEARL Award
for Best Overall Paranormal
Finalist for 2000 Francis Award
for Other Paranormal

Finalist for 2000 All About Romance Award
for Favorite Other Romance

Winner for 2000 RBL Romantic Hughie Award
for Best Paranormal

Recommended by Barnes & Noble
---
~DARK CHALLENGE BESTSELLER LISTS~
Waldenbooks Bestseller List
USA Today Bestseller List
Amazon Bestseller List
Walmart Bestseller List
Sirenbooks Bestseller List
---
~DARK CHALLENGE REVIEWS~
Romantic Times
Reviewed by Jill M. Smith

Top Pick
The exciting and multifaceted world that impressive author Christine Feehan has created continues to improve with age. By introducing this new band of Carpathians, she is setting the stage for more exhilarating adventures to come.
Kathy's Faves and Raves
Reviewed by Kathy Boswell
Member of Reviewers International Organization (RIO)
5 thumbs up.

Book five in Christine Feehan's Carpathian series is absolutely the best yet, in my humble opinion. I totally fell in love with Julian and Desari was the most wonderful heroine yet! She is wholly ancient Carpathian and won't let Julian get away with one ounce of his male arrogance and dominance!

This book not only tells us about the Carpathian race but it also gives us even more background about the ancients and gives us a peek at what is yet to come from the marvelous creator of this fabulous series! Christine Feehan cannot write these books fast enough for me!
Romance and Friends
Reviewed by Gloria Kruenegel
Once again the Queen of Carpathian's reigns supreme! This book just blew me away with the awesome love story Ms. Feehan is so, so good at creating! She took me out of my world and transported me to the wonderful world she alone created with her Carpathian Romances. If you somehow missed her first books in this series, you OWE it to yourself to find them, and read them as you will want to be ready for this book when it appears on Bookstore shelves. The intense romance and the exciting paranormal plot with all its twists and turns will keep the reader enthralled in this one, from cover to cover. I have no clue how this author keeps getting better and better, but…I thank her very much and look forward to each new book with much impatience. Thanks Christine!!!
Sime-Gen Romance
Reviewd by Carol Castellanos
Enthralling!

The only word that came to mind when describing DARK CHALLENGE is enthralling. I found myself unable to stop reading once I started. It's definitely a one sitting book. This book had everything. A sexy male in the form of Julian Savage, an ancient Carpathian and vampire hunter, a strong female in the form of Desari, an ancient female Carpathian at full power, and once they meet the sparks fly. With Desari, Julian may just find, not only his lifemate and a match for his strong will, but things he didn't know were missing, like love, friends, and sense of belonging somewhere.
Rendezvous Magazine
Reviewed by Darlene Kendall
I don't just read Ms. Feehan's Carpathian series, I devour them and then I reread one again just to savor a phenomenal book that whets my appetite for the next delicious tale. Each book consistently gifts readers with a unique plot, eminently satisfying and sexy heroes who are true to their race and an inferno of steamy sensuality. Connoisseurs of paranormal romances will find this series THE BOMB! Triple Kudos to Ms. Feehan for her stupendous imagination and talent.
Reviewed by Venetia Groom, UK
Christine has yet to disappoint, though at the rate her fan club is growing, I doubt this lady is capable of disappointing anyone! Dark Challenge is an enthralling read, beautifully written and best of all, it reveals a little more of Carpathian history and yet more intriguing characters. For those fans out there mourning the loss to Gregori (to Savannah) fear not, as another has arrived! He is just as deadly, just as gorgeous and just as dangerous and furthermore he is still available! I shall not give any more away, go and get the book.
Reviewed by Harriet Klausner
The fifth Christine's Feehan's "Dark" tale, DARK CHALLENGE, continues one of the best vampiric romance series on the market today. The story line retains the freshness and excitement of the previous novels. As with those books, this tale continues to focus on the Carpathian race through the eyes of deep enchanting characters. Readers will empathize with Julian's plight, marvel at Darius' leadership abilities, and relish Desari's song. Ms. Feehan has cast another love spell on her adoring audience who will want book six released rather quickly.