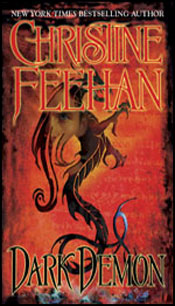 Christine Feehan has worked magic on a legion of fans with her darkly thrilling Carpathian tales. Now she delivers the provocative tale of a female vampire slayer who proves as seductive—and mysterious—as the night dwellers she stalks…

For as long as she can remember, Natalya has been fighting demons: first in the form of childhood nightmares, then later, immortal creatures that kill and prey on the innocent—including her own twin brother. Whether Carpathian or vampire, she slays those who murder by night, and has no equal—until she is seduced by the very thing she considers her enemy…
A Carpathian who has seen nearly everything in his endless existence, Vikirnoff didn't think he could be surprised anymore—until he faces a woman who rivals him as a vampire hunter. A formidable and gifted warrior in her own right, Natalya has a nature that is strangely familiar—yet alien—to his own. Who is this mysterious female who fears no one—not even him? Natalya could be the key to the survival of the Carpathians, but all Vikirnoff is certain of is that she is the key to his heart and soul…
Click Here to Read Chapter 1
Release Date: April 2006
Number of Pages: 500 pages
Publisher: Jove Books
Language: English
ISBN: 0515140880
Vikirnoff Von Shrieder believes that women, in particular lifemates live to please their man. He is positive his lifemate will hang on his every word and do what he tells her. Natalya Shonski has a magic all her own. She's battled vampires, is quite disgusted when they keep rising, but gamely kills them multiple times, and she has a smart mouth on her. The last thing she is EVER going to do is hang onto some man's word and do what he tells her.
The book takes place in the Carpathian Mountains and revisits the ice cave of the dark wizard and brings a battle right to the door of the Prince. The book is filled with action and humor and the chemistry between Vikirnoff and Natalya was amazing. This book also introduces the original Carpathian language so hopefully it will be something to really look forward to.

---
~DARK DEMON FAQ'S ~
FAQ) Who are the cover models for Dark Demon?
The male model for the stepback is Nathan Kamp. We are still working on finding out who was the female model is.
---
~CARPATHIAN LANGUAGE~
YOU'RE NOT GOING TO BELIEVE THIS: As mentioned in the two special appendices of Dark Demon, you can now hear the Ritual Words and some of the healing chants of the Carpathians -- IN CARPATHIAN! The best way to hear these is with the speakers turned up high.
Sarna Rituaali, "The Ritual Words" -- The complete chant (2 minutes and 58 seconds) is currently available in these formats:
Kepä Sarna Pus (The Lesser Healing Chant)-- The complete chant (1 minute and 54 seconds) is currently available in these formats:
En Sarna Pus ("The Great Healing Chant") -- The complete chant (6 minutes and 24 seconds) is currently available in these formats:
Visit the Members Section for much more about the Carpathian language.
---
~DARK DEMON BESTSELLER LISTS~
#2, New York Times Bestseller List
#2, USA Today Bestseller List
#2, Publishers Weekly Bestseller List
Amazon Bestseller List
Barnes & Noble Mass Market Bestseller List
Bookscan Bestseller List
Borders Bestseller List
Waldenbooks Bestseller List
---
~DARK DEMON REVIEWS~
Romantic Times
Jill M. Smith

top pick
Storyteller extraordinaire Feehan finally brings together plot threads that she has been weaving for some time in this immensely thrilling book. Romance, drama, danger and flashes of humor are on full display. This is a page-turner in the truest sense.
The Best Reviews
Harriet Klauser
Terrific action packed thriller

DARK DEMON is must reading for long time fans of the Carpathian novels, not just because it is a terrific action-packed romantic thriller, but also because many subplots dangling from previous books tie together. The lead duet are fantastic star-crossed soulmates, but they have so much trouble ahead that it makes their path to eternal happiness look bleak. Natalya and Vikirnof make this a superb entry that can stand alone as a fabulous paranormal romantic suspense, but to savor the full taste newcomers would be better suited finding much of the backlist.
Romance Junkies
Brenda Edde
Ms. Christine Feehan has added another thriller to her Dark series with the addition of DARK DEMON. Her heroine, Natalya is a mixture of a hard blooded warrior and a lonely woman who watches late night horror films. Her references to B-rated movies and TV shows baffle Vikirnoff who was expecting a gentle woman who would be thrilled to be his lifemate, not a smart-mouthed woman who battles vampires.

The ongoing story line of a vampire conspiracy to kill the Prince of the Carpathians is merged with the Dragonseeker lineage that has been hinted at in past books. As Natalya and Vikirnoff deal with her compulsion to visit the cave of the Mage, clues that have been dropped in past books fall into place, the action starts and will keep you on the edge of your seat until the very last page.

Those of you who are loyal Dark fans will be thrilled with some of the surprises Ms. Feehan includes in this book as well as the appearance of so many of the Carpathians you know. If you are a first time reader of Ms. Feehan's books you will be hooked and buying all of her previous books. I highly recommend DARK DEMON, Ms. Feehan is at the top of her game, answering just enough questions to satisfy our thirst to know who is challenging the Prince and throwing in the new twists that she is so famous for.
Fallen Angel Review
Jaymi, reviewer
Five angels
Natalya and Vikirnoff don't just sizzle on the pages; they're like a raging inferno. Every scene is so intense and passionate; readers will be drawn by the sheer magnetism. Even with their connection so intense, there are laugh out loud moments throughout. Natalya tries to explain to Vikirnoff that she's more like Xena than Donna Reed or June Cleaver. The use of today's movie culture is definitely a comical benefit to this book. Dark Demon is just an amazing book. Christine Feehan doesn't just draw readers in, she holds them there captivated. This series never falters or becomes stale. The bottom-line is the same; a Carpathian in need of his lifemate, yet each book is unique, each plot intricate. I loved the involvement from previous characters. It's always exciting to see the Carpathians interact. The action in Dark Demon is non-stop, the love story engaging, and the storytelling is fabulous. Christine Feehan does vampires like no other.
Reviewer
Terrie Figueroa
Romance Reviews Today
A perfect 10
In addition to the two larger than life protagonists, secondary characters include Mikhail and Raven (DARK PRINCE), Falcon and Sarah (Dark Dream in the AFTER TWILIGHT anthology), Gabrielle and Jubal, brother and sister of Joie (Dark Descent in THE ONLY ONE anthology), and several evil vampires and a very nasty wizard. In DARK DEMON, Ms. Feehan begins to weave together threads from previous stories and you can tell that the series is leading up to something very big.

The sixteenth tale in this fascinating and popular series, DARK DEMON delivers a mega read that will be talked about for a long time. The action and pace at the end of this novel will leave you breathless and dying for the next book in the series, DARK CELEBRATION, which can't come out fast enough for me. DARK DEMON is perhaps the most intense and exciting novel in the series to date, and rates RRT's Perfect 10. Don't miss this nail-biting, passionate and thrilling novel; go out and grab your copy of DARK DEMON immediately and then be prepared to be unable to put it down until you finish the last marvelous pages.