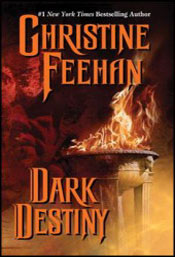 They were masters of the darkness, searching through eternity for a mistress of the light…
Her childhood had been a nightmare of violence and pain until she heard his voice calling out to her. Golden and seductive. The voice of an angel.
He had shown her how to survive, taught her to use her unique gifts, trained her in the ancient art of hunting the vampire. Yet he could not bend her to his will. He could not summon her to him, no matter how great his power.
As she battled centuries-old evil in a glittering labyrinth of caverns and crystals, he whispered in her mind, forging an unbreakable bond of trust and need. Only with him can she find the courage to embrace the seductive promise of her… Dark Destiny.
Click Here to Read Chapter 1
Release Date: July 2004
Number of Pages: 383 pages
Publisher: Leisure Books
Language: English
ISBN: 0843950501
Order Mass Market Paperback

Amazon.com
BarnesAndNoble.com
Walmart.com

printable order form for bookstore

Order E-Book

Amazon.com (Kindle)
ItunesApple.com (Ipad)
BarnesAndNoble.com (Nook)
Ebooks.com (various devices)

Order UK Dark Destiny

Order Audiobook

Dunkler ruf des Schicksals
Dark Destiny in German

Amazon.de

Destino Oscuro
Dark Destiny in Spanish

Amazon.com
BarnesAndNoble.com (Nook)
BarnesAndNoble.com (Paperback)
Tienda.CyberDark.net
This is the story of Destiny, a woman who was captured by a vampire when she was only a child. Turned into something she doesn't want to be, she has stayed alive for one purpose, to rid the world of the terrible night creatures that prey on the human race.
Nicolae is an ancient hunter, sent out centuries earlier to protect the world of Carpathians and humans against the vampire. He has searched the world over to find this one woman, a woman he taught to kill, to bring her back to the Carpathian Mts in the hope that the Prince could help her. Instead, he finds his lifemate and a conspiracy of vampires. He needs a healer fast to help Destiny as she fights first Nicolae and then at his side to find the answers needed to bring to the Prince of all Carpathians.
I wrote this book for so many people who have lived in the shadows and struggled to find hope and life after so many traumatic events. I hope Destiny and Nicolae lead the way.


---
~DARK DESTINY AWARDS & HONORS~
Finalist for the 2004 PEARL Award
for Best Shapeshifter
Finalist for the 2004 PEARL Award
for Best Overall Paranormal
---
~DARK DESTINY BESTSELLER LISTS~
New York Times Bestseller List
USA Today Bestseller List
B Dalton Bestseller List
Barnes & Noble Bestseller List
Barnes & Noble Online Bestseller List
Barnes & Noble Best of 2004 Staff Favorites Bestseller List
Amazon Bestseller List
Publisher's Weekly Bestseller List
Sirenbooks Bestseller List
Walmart Bestseller List
Waldenbooks Bestseller List
---
~DARK DESTINY REVIEWS~
Reviewed by Booklist
This out-of-the-ordinary romance is deeply sensuous with exquisitely detailed lovemaking and equally vivid paranormal battle scenes involving shape-shifting, running up walls, heaving fireballs, and dragons erupting from the earth. Although this is part of Feehan's popular Dark series, it's quite accessible to readers new to the world of the Carpathians.
Reviewed by Diane Mason
Simegin 5 stars
DARK DESTINY is the story of a courageous woman who fears she has become the monster who destroyed her life..... Nicolae is an ancient Carpathian who gets the shock of his life when he realizes that Destiny is his lifemate. Watching them get to know each other and work together is very magical. This book just tugged at my heartstrings in such a way that I almost can't find the words to do it justice.

Christine Feehan has masterfully woven a tale that is heartrending yet uplifting. The secondary characters are written just as strongly as the main characters and are so full of life you can't wait to see what Ms. Feehan might have in store for them in future books. When you sit down to read this one make sure you have lots of time, potholders and a box of kleenex set aside. You will need all three.
Reviewed by Brenda
Romance Junkies
DARK DESTINY, the long awaited story of the first known woman vampire hunter, is all that we hoped it would be. Destiny and Nicolae lock wills from the beginning, Destiny determined not to succumb to a seductive voice again and Nicolae equally determined to let her come to him of her own free will, certain that she will admit she is his lifemate. The action in DARK DESTINY is fast and furious, the information regarding the banding together of vampires leads us one more step into the fascinating world she has created. Ms. Feehan has also peppered the story with tantalizing clues to tease her faithful Dark Series fans. She shows us yet again that she is a master story-teller with a mission to bring to her readers a tale deliciously mixed with social issues, the difficult challenges of believing in ourselves, wanting us to trust in love, and showing us that laughter can be found at the worst of times and love will heal all wounds. DARK DESTINY is one of those keepers that you'll want to read again and again. It is one of those you can always finding one more piece of information you missed or just savoring that one special scene that you love.
Reviewed by Kari Thomas
5 roses
http://www.aromancereview.com
http://www.loveromances.com
.... Destiny's strength of character, despite her traumatic, nightmarish childhood is so touching. This reviewer loved her compassion for others despite her thinking she was a "killer beyond redemption". Her vulnerabilities, her desperate need to be "good", made her a heroine that will be unforgettable, to say the least. And Nicolae was the type of hero this reviewer sighs over. I loved his patience, his gentleness with Destiny. He was the perfect hero for a woman whose soul was scarred, and who needed to learn trust and love before she could learn to live once again.

Ms. Feehan has a special writing talent in being able to wring the emotions out of a reader! Her characters come to vivid life, passionate and compassionate at the same time. Being a fan of paranormal romance, this reviewer can honestly say that Ms. Feehan's books are unbeatable --- in that they are so incredibly rich with the soul deep love everyone searches for. Her concept of "lifemates" is uniquely special, and adds a passionate depth to the love story --- and that ingredient is found lacking in most paranormal romances. Her characters have both strengths and vulnerabilities, making them all the more real to the reader. The soul deep love the heroine and hero share is incomparable, beyond simple passion, deeper than mere sensual, and touches the reader's own heart and soul. If you haven't read any of Ms. Feehan's books, do yourself a favor and rush out to buy one. You'll be glad you did, and like this reviewer you will most likely find yourself addicted to them and having to go through withdrawal while waiting for the next book to come out! A definite recommend!
Reviewed by Sinclair Reid
A perfect 10!
Romance Reviews Today
Oh my! Get the handkerchief ready because once you open the pages of DARK DESTINY you are definitely going to need it. Ms. Feehan weaves a delicious tale of passion, heartache, and deceptions with her newest in the Carpathian series, DARK DESTINY. This time around, her heroine is the tortured soul, the one who feels lost and alone. Destiny is a beautiful woman who suffers daily with the knowledge that she's a monster. Nicolae is an ancient Carpathian hunter who wants to wrap Destiny in a ball of cotton and protect her until his dying breath. This reader instantly fell in love with Nicolae. His patience with Destiny, showing her that making love was an _expression of love and not a violent act, brought tears to my eyes. Never have I seen a hero more strongly attuned to his heroine than Nicolae is to Destiny. When the two finally come together, it's beautiful, passionate, and deep. There are several secondary characters who deserve to be mentioned: Inez and Velda, two sisters with outrageous hair color and clothes; Mary Ann; Father Mulligan, and Vikirnoff, Nicolae's brother. These people play an important role in the lives of Destiny and Nicolae and bring dimension to this already intriguing story.

Author Christine Feehan has once again created a thrilling story in her Dark series, a story that readers will undoubtedly enjoy. DARK DESTINY is an emotion packed romance that keeps you on the edge of your seat. The characterization is excellent, the storyline phenomenal, and the passion is outstanding, garnering DARK DESTINY "A Perfect 10" in my book.
Reviewed by Jill Smith


Romantic Times Magazine

For the first time, vampire forces are gathering together in a unified plot against the Carpathians. Nicolae and Destiny may be the only ones able to begin to unravel the secret.

The plot definitely thickens in the newest chapter of Feehan's tremendous Carpathian saga. As always, the romance is passionate and gripping, but there are plot threads that can lead this series into very interesting territories.