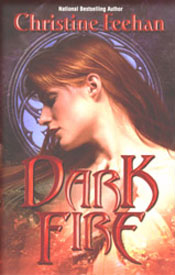 There is Always
a Price to Pay
So Darius warned her when she accepted a position with his traveling troupe. And gazing mesmerized at the merciless slash of his mouth, the implacable resolve on his face, the soulless emptiness of his black eyes, Tempest was afraid to ask what it was.
She had always been different, apart from others. From the moment his arms closed around her, enveloping her in a sorcerer's spell, Darius seemed to understand her unique gifts. But did his kiss offer the love and belonging she sought, or a danger more potent than his own panthers?

Somewhere deep inside herself, Tempest realized she knew the answer. She had no choice but to accept the velvet stroke of his tongue, submit to the white-hot heat piercing her skin, welcome an erotic pleasure like no other….
Click Here to Read Chapter 1
Release Date: August 14, 2001
Number of Pages: 390 pages
Publisher: Love Spell
Language: English
ISBN: 0505524473
When I first began to write Dark Fire, Darius was so strong of a character, I almost couldn't take a break from writing. He is a mixture of Mikhail, the Prince, and Gregori, the hunter and healer. Having had to take on both roles it is no wonder. He is more earthy and raw then Gregori, lacking the elegance of his brother but with more of an edge. He has unexpected qualities that really appealed to me. Darius did not have the benefits of learning from his elders, he experimented through trial and error. He has an enormous strength of character and he tends to be a bit on the ruthless side. He is far earthier with a touch of the savage, taking the hunt to those who threaten the ones he loves.
Tempest is a mechanic badly in need of a job. She answers an ad that leaps out at her, spending her last dime to take her to the site. Almost immediately her dream job takes a nightmarish turn when the leader of the band, a charismatic man, takes her blood and claims her as his own.
I believe Tempest is well suited to Darius, his other half, his lifemate. She shares the quirky sense of humor most of my heroines have to some degree, mostly because I have that same odd sense of humor. It gets her through her trials and impossible situations, just as it does for me.
I loved this book because I love how Darius loves Tempest. To me, this is a true love story!
---
~DARK FIRE FAQ's~
FAQ: Who did the artwork for the cover of Dark Fire?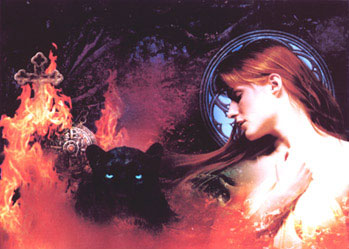 John Ennis designed my cover for Dark Fire and I absolutely love his concept. His work is fantastic!
---
~DARK FIRE AWARDS & HONORS~
Winner for the 2001 PEARL Awards
for Best Shapeshifter
Winner for 2001 PEARL Awards
for Overall Paranormal
Winner for 2001 RT Reviewers Choice Awards
for Best Vampire Romance

Nominee for 2001 RT Reviewers Choice Awards
for Mainstreem Novels
3rd Place in the 2001 RIO Dorothy Parker Award
for Paranormal Romance

Honorable Mention for 2001 Love Romances
Readers Choice Awards
for Best Paranormal Romance

Honorable Mention for 2001 Love Romances
Readers Choice Awards
for Best Vampire Romance

Winner for 2001 RBL Romantic Hughie Awards
for Best Cover
Recommended by Barnes & Noble
---
~DARK FIRE BESTSELLER LISTS~
Barnes & Noble Bestseller List
Waldenbooks Bestseller List
USA Today Bestseller List
New York Times Bestseller List
Walmart Bestseller List
Sirenbooks Overall Bestseller List (1st place)
Sirenbooks Overall Paranormal List (1st place)
---
~DARK FIRE REVIEWS~
Book Barn-Folsom
Reviewed by Janice Bennett

Very Highly Recommended
DARK FIRE is the riveting story of a dangerous, virile male willing to risk his very immortality for the woman he loves. Ms. Feehan has a knack for knowing exactly what her readers desire when they immerse themselves in the pages of her stories!
Romantic Times Magazine
Reviewed by Kathy Boswell
Member, Reviewers International Organization (RIO)
Christine Feehan has done it again! She's written a novel so compelling, I had difficulty putting it down even for one minute! I highly recommend this fabulous book. I'm only sorry I read it so quickly but Christine Feehan's books are very hard to read slowly and savor! They are much to enjoyable. I eagerly look forward to the next Carpathian book.
PNR Reviews
Reviewed by Leslie Tramposch
I am awed by Ms. Feehan's ability to build upon this saga without becoming redundant. As the saga progresses something new is learned, and the reader comes to care about the characters, looking forward to the discovery of the next life mate. This sixth book of the Dark Series is a fascinating as the first. Fans will perhaps not be surprised at the secondary romance within the pages of DARK FIRE, but it was still a nice touch indeed. I don't know about anyone else but I would dearly love for Darius and Desari to meet their brother Gregori someday. I highly recommend this novel and wait with baited breath for the next installment.

Reviewed by Beverly I Smith
I have every book printed by this author, and will continue to buy them. Each one gets better and better. Thank you Ms Feehan, for saving mankind and Carpathians alike.
Reviewed by Cindy Penn
Senior Editor, WordWeaving
Amazon Top 50 Reviewer

Evocative and intense -- Very highly recommended Christine Feehan brings texture and richness to her latest saga of Carpathians in DARK FIRE. As sparks ignite between these strong willed, multifaceted characters, Darius knows he's met his life mate because she's literally put color back in his universe. Tempest isn't nearly so trusting of fate, exerting her fierce independence and proving the strength of her mettle. Yet Darius ignites a dark fire every time he touches her, providing a scintillating, sensual read. Further, watching Darius learn to cope with long forgotten emotion following centuries of icy control makes for evocative, intense entertainment. As a new fan of this series, this reader found obvious ties to previous books, but still feels the strength of the novel allows it to stand alone as well. Very highly recommended.