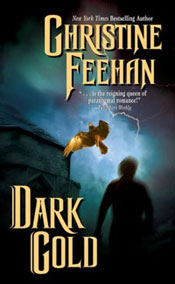 Was he a man…Or a miracle? Alexandria Houton would sacrifice anything-even her life-to protect her orphaned little brother. But when both encountered unspeakable evil in the swirling San Francisco mists, Alex could only cry to heaven for their deliverance…

And out of the darkness swooped Aidan Savage, a golden being more powerful, more mysterious, than any other creature of the night. The ageless Carpathian male snatched them from a hideous fate. But was Aidan a miracle…or a monster? Alex's salvation…or her sin? If she surrendered to Aidan's savage, unearthly seduction-gave him the color, the light, the family he craved-would Alex truly save her brother? Or sacrifice more than her life?
Click Here to Read Chapter 1
Release Date: April 2000
Number of Pages: 320 pages
Publisher: Love Spell
Language: English
ISBN: 0505523752
Order Mass Market Paperback

Amazon.com
BarnesAndNoble.com
Walmart.com

printable order form for bookstore


Order E-Book

Amazon.com (Kindle)
BarnesAndNoble.com (Nook)
ItunesApple.com (Ipad)
Ebooks.com (various devices)

Order Hardcover Large Print

Amazon.com

Order Audio: MP3

BarnesAndNoble.com


Order Uk Format

Amazon.co.uk
LittleBrown.co.uk

黑暗黃金
Dark Gold in Chinese

Love.DogHouse.com.tw

Der Fürst der Nacht
Dark Gold in German

Amazon.de

Mroczny blask
Dark Gold in Polish

Merlin.pl

El Oro Oscuro
Dark Gold in Spanish

Amazon.com
Amazon.co.uk
BarnesAndNoble.com

El Oro Oscuro
Dark Gold in Spanish

Tienda.CyberDark.net
BarnesAndNoble.com
The idea for Dark Gold- the story of Alexandria, a hardworking young woman single-handly raising her orphaned brother-came to me when I was watching my daughter send her seven year old son off to school one day. When their blond curls came together in a hug, the entire story of Alexandria and Josh seemed to unfold before my eyes. Like Alexandria, my daughter works hard, goes to school, and rarely socialized so she can spend quality time with her child. She has given up so much in her life, but she treasures him above all else.
Alexandria loves her young brother as fiercely and as protectively as any mother would-and in Dark Gold she must protect Josh from unspeakable dangers, at great peril to herself. Every crucial decision she makes is based on love and willing self-sacrifice. So I've given Alexandria a hero of enormous strength and power-Aidan Savage-a man who can finally make her heart-and her family-whole.
---
~DARK GOLD FAQ's~
FAQ: Who is the male cover model on the original cover of Dark Gold?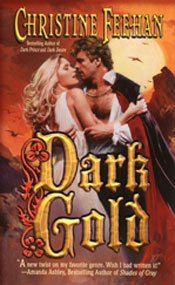 The male cover model on original cover of Dark Gold is Mike Dale. The female cover model on the original cover of Dark Gold is Colleen Gruber.
---
~DARK GOLD AWARDS & HONORS~
Recommended by Barnes & Noble
---
~DARK GOLD BESTSELLER LISTS~
Amazon Bestseller List
Siren Books Bestseller List
Walmart Bestseller List
Border's Paranormal Romance List
---
~DARK GOLD REVIEWS~
Romantic Times
Reviewed by Jill M. Smith

The third in Christine Feehan's Carpathian series is her best to date. DARK GOLD is imbued with passion, danger and supernatural thrills. Best book yet!
Under the Covers
Reviewed by Janice Bennett
Very Highly Recommended
DARK GOLD is the third installment of her Carpathian series, Christine Feehan establishes herself as the mistress of Torture and Suspense. The torture of waiting for her next book to come out and the suspense of turning each page to find out if this book will be even better than the last! I am happy to say that DARK GOLD gives us everything we have come to expect from her books and more. Making it a worthy addition to the series.
Barb's All About Romance Book Store
Reviewed by Cathy McNabb
Ms Feehan amazes me with the variety and depth she puts into every story. In DARK GOLD she has kept true to form and produced another interesting book. I can hardly wait for the next book which will be Gregori's story. A job well done, Ms. Feehan, another excellent book to add to this series!
Paranormal Romance Reviews
Reviewed by Leslie Tramposch
It is a testament to Ms. Feehan's writing ability that she is able to deal with such hard-hitting issues with such aplomb. I am really looking forward to the next installment due to be released in late summer.