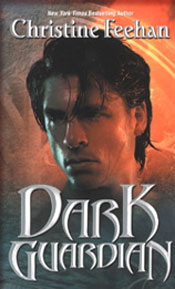 Jaxon Montgomery is a woman hunted. Trained by the Special Forces, honed by a traumatic childhood, she is a policewoman with an undisputed reputation. She meets her match when she is set up to be murdered by an enemy. Hunted on all sides, she can only turn to the mysterious stranger who seems more dangerous than any other she has ever known.
He ran with the wolves…
Materialized from the mists…
Hijacked the very heavens to his whims…
He was the Dark Guardian of his people. So how, after centuries of bleak, soulless existence, had he suddenly come to crave petite, curvy, colorful lady cop Jaxon Montgomery, who foolishly made it her life's work to protect others from harm?
Click Here to Read Prologue
Click Here to Read Chapter 1

Release Date: May 2002
Number of Pages: 348 pages
Publisher: Leisure Books
Language: English
ISBN: 0843949945
Order Mass Market Paperback

Amazon.com
BarnesAndNoble.com
Walmart.com
printable order form for bookstore

Order E-Book

Amazon.com (Kindle)
BarnesAndNoble.com (Nook)
ItunesApple.com (Ipad)
Ebooks.com (various devices)

Order Large Print Hardcover

Amazon.com

Currently out of Print
Contact Thorndike Press
to find out when
it will be re-released.

Dark Guardian UK

Dunkler Rausch der Sinne
Dark Guardian in German

Amazon.de

El Guardian Oscuro
Dark Guardian in Spanish

Amazon.com
BarnesAndNoble.com
Tienda.CyberDark.net
Walmart.com


Audio: MP3


BarnesAndNoble.com
I was so lucky to get Stefan Schwarz as Lucian for the cover of Dark Guardian. Not only is he a wonderful person, but he really depicted Lucian. Of all the books I've written, this was to date the most difficult, because it was written about a character—a man—who went his own way and did what he thought was right. I couldn't direct him or upset him, no matter what I threw at him. Lucian spent his life ensuring those he loved were well taken care of.

This book was written for my son in law, Jonathon Woods, who fought a long and courageous battle with cancer. He was the epitome of the protective male.
---
~DARK GUARDIAN FAQ's~
FAQ: Who did the artwork for the cover of Dark Guardian?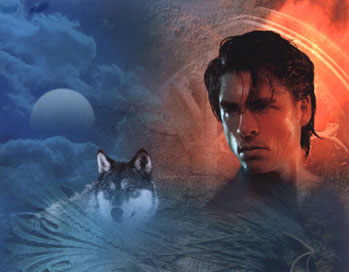 John Ennis designed my cover for Dark Guardian and I absolutely love his concept. His work is fantastic!
FAQ: Who is the cover model on the cover of Dark Guardian?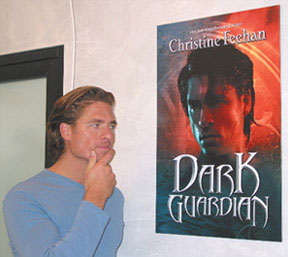 The wonderful cover model is Stefan Schwarze. He was also on the insert of Safe Harbor and was on of the lead actors in the Safe Harbor book trailer. You can write to him through Dorchester:
Att: Stefan c/o Art Department
Dorchester Publishing
275 Fifth Avenue NYC 10001
---
~DARK GUARDIAN AWARDS & HONORS~
Winner for the 2002 PEARL Awards
for Best Overall Paranormal
Honorable Mention for the 2002 PEARL Awards
for Best Shapeshifter

Winner for 2002 Golden Rose
Readers Choice Award from Love Romances
for Best Paranormal
Winner for 2002 Golden Rose
Readers Choice Award from Love Romances
for Best Vampire Romance

Winner for 2002 Waldenbooks
Bestselling Paranormal
(tied with Lair of the Lion)
---
~DARK GUARDIAN BESTSELLER LISTS~
Amazon Bestseller List
Barnes & Noble Bestseller List
Borders Bestseller List
NY Times Bestseller List
Sirenbooks Bestseller List
USA Today Bestseller List
Waldenbooks Bestseller List
Walmart Bestseller List
---
~DARK GUARDIAN REVIEWS~
Romantic Times: Jill M. Smith


top pick
Just when you think Ms. Feehan's series can't get any better, she ups the ante by producing the utterly wonderful Dark Guardian. This book has it all and then some. A true keeper!
Amanda F. Killgore
With every new DARK book Christine Feehan just gets better.
Reviewed by Janice Bennet
BestReviews.com
Dark, sensuous, sometimes violent and bloody, DARK GUARDIAN is by turns titillating and shocking with its vivid portrayal of the maniacal evil stalking Jaxx, and Lucian's desperate need to protect her in spite of her insistence that he stay out of harm's way. Jaxon has lived through a lot in her short life, and if anyone deserves to have a hero come into her life, it is she.
BestReviews.com: Kathy Boswell
managing editor
Lucian and Jaxon's story is every bit as enjoyable as I imagined it to be. My only problem is I cannot seem to read these books slowly to savor them. I read them much too quickly in order to find out what's in the next chapter and the next until I am surprised that I've reached the end of the book in short order. I now look forward to the next Dark book from the amazing and talented Christine Feehan!
Romance Reviews Today: Sondrea Cash
review coordinator
perfect 10
Intensely romantic and suspenseful, Dark Guardian is a must read for paranormal fans and definite keeper. This one will be hard to top but I have confidence in Ms. Feehan's superlative skill and eagerly await the next book in the series.
Romance-News.com: Angel Roper
Dark Guardian the ninth installment in Christine Feehan's Dark Series is one sensual, spellbinding, captivating masterpiece.
The Write Lifestyle: Brenda Gayle
The story's twists, turns and evasions, keep you reading, to the end of the last page. You have to wonder who will prevail in this battle of wits and determination…the petite police officer trained to guard and protect, or the ancient Dark Guardian.