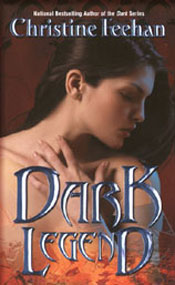 He woke deep within the ground, and the first sensation he felt was hunger. An overwhelming hunger for blood that demanded satisfaction. But as he hunted the dark streets of Paris for prey, a voice called to him, soothing, calming, giving him the strength to control his craving.
Francesca Del Ponce was a healer, a woman who radiated goodness as powerfully as the sun did light. But surely his obsession with her would turn him as his twin brother had turned, leaving the world with two monsters instead of one.
Though he knew she would be like hot silk in his arms, though he knew the taste of her would be addictive, he feared for her life and his soul if he took her. Then with one mind-shattering vow she gave herself - "I offer freely, without reservation, I offer my life for yours as is my right" - and with a firestorm of long-forgotten feelings, he glimpsed salvation.
Click Here to Read Chapter 1
Release Date: January 2002
Number of Pages: 394 pages
Publisher: Leisure Books
Language: English
ISBN: 084394952X
Order Mass Market Paperback

Amazon.com
BarnesAndNoble.com
Walmart.com

printable order form for bookstore

Order E-Book Format

Amazon.com (Kindle)
BarnesAndNoble.com (Nook)
ItunesApple.com (Ipad)
Ebooks.com (various devices)

Order Large Print Hardcover

out of stock
Dunkles Begehren
Dark Legend in German

Order from Amazon.de
A Lenda Negra
Dark Legend in Portuguese

Bertrand.pt


La Leyenda Oscura
Dark Legend in Spanish

Amazon.com
Amazon.co.uk
BarnesAndNoble.com
Tienda.CyberDark.net

This book is about Gabriel, one of the legendary Carpathian twins, awakened in a cemetery in Paris, by the earth above him moving. The world is an unfamiliar place, much changed. He meets Francesca, a woman of extraordinary powers and talents. Together they forge an alliance in the hopes of defeating his most feared enemy, Lucian, his legendary twin.
---
~DARK LEGEND FAQ's~
FAQ: Who did the artwork for the cover of Dark Legend?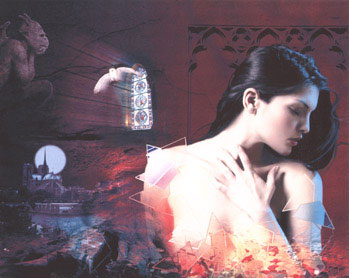 John Ennis designed my cover for Dark Legend and I absolutely love his concept. His work is fantastic!
---
~DARK LEGEND AWARDS & HONORS~
Finalist for the 2002 PEARL Awards
for Best Shapeshifter
Finalist for the 2002 Dorothy Parker Award
for Best Paranormal

Winner for 2003 PNR Grass Roots
SilverMoon Chalice Awards
for Best Vampire

Honorable Mention for 2002 Golden Rose
Readers Choice Award from Love Romances
for Best Vampire Romance
---
~DARK LEGEND BESTSELLER LISTS~
Amazon Bestseller List
Barnes & Noble Bestseller List
NY Times Bestseller List
Sirenbooks Bestseller List
Waldenbooks Bestseller List
Walmart Bestseller List
---
~DARK LEGEND REVIEWS~
The Belles and Beaux of Romance
Reviewed by Suzanne Coleburn
This is so darn exciting you don't want to put the book down for a second as you come into contact with so many interesting characters that touch the lives of Gabriel and Francesca as they form a bond of love. Meanwhile, Lucien is able to slip in and out of Gabriel's mind and keep abreast of things. Add to this some of the steamiest love scenes ever as Ms. Feehan pulls out the stops to give you a taste of her fabulous writing skills as she creates her charismatic characters that leave you breathless. Wow, excuse me while I take a cold shower. This series is a must buy in my estimation if you are hooked on vampires. Mine are all on my bedroom keeper shelf for easy access. (Very Big Grin).

Suzanne "One Night With Gabriel and I'm Done For. I Think I Could Fly on the Wings of Love all by Myself Folks!" Coleburn

"Christine Feehan is a master storyteller whose work I adore. I can't imagine what new supernatural beings she has in store for us in the future. All I know is I can't wait for the next book. Ms. Feehan is #1 Vampira!"
Reviewed by Janice Bennett
Managing Editor, The Best Reviews
DARK LEGEND is an exciting and worthy addition to Ms. Feehan's Carpathian series. Gabriel could have been arrogant and overbearing, with all his strength and power, but his love for his brother had taught him to care for others, his anguish over the fact that he must hunt his brother down and kill him was heartbreaking. His only salvation was that he had discovered his lifemate in Francesca and that his love for her, and hers for him could help him bear the pain. Francesca and Gabriel try to plan for a future together, along with an abused orphan girl they want to adopt, but always in the backs of their minds is the knowledge that one day soon either Gabriel or Lucian, or both, must die. I was on pins and needles until the end, waiting to see how it would turn out!
Reviewed by Kathy Boswell
Managing Editor, The Best Reviews
With every Carpathian book I read, I say this is the best one but then Christine Feehan outdoes herself yet again. I thoroughly enjoyed Gabriel and Francesca's story. I especially enjoyed getting more insight into the Carpathian world and the world of the ancients. I eagerly look forward to each and every one of Christine Feehan's books. She is most definitely the Queen of the Carpathians!
PNR Reviews
Reviewed by Leslie Tramposch
DARK LEGEND is a suspenseful and spell binding addition to the continuing Carpathian saga. It teases and tantalizes and leaves the reader craving the next piece of the puzzle.
WordonRomance.com
Reviewed by Robin Peek
Ms. Feehan's latest addition to her Carpathian series is excellent. With its intriguing storyline, and sexy vampire males, DARK LEGEND is a powerful force all on its own. I highly recommend DARK LEGEND to those who love vampire stories and to those readers who just like a good story.
Reviewed by Carol Castellanos
Sime~Gen Author Spotlights Head Coordinator
I loved this book as much as I do all of Christine Feehan's books.
Though it had many different storylines going on it did nothing to detract from the main story. As with all of Ms. Feehan's books this one just made me want much more.