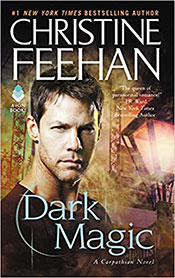 Young Savannah Dubrinsky was a mistress of illusion, a world-famous magician capable of mesmerizing millions. But there was one-Gregori, the Dark One-who held her in terrifying thrall. Whose cold silver eyes and heated sensuality sent shivers of danger, of desire, down her slender spine.
With a dark magic all his own, Gregori-the implacable hunter, the legendary healer, the most powerful of Carpathian males-whispered in Savannah's mind that he was her destiny. That she had been born to save his immortal soul. And now, here in New Orleans, the hour had finally come to claim her. To make her completely his. In a ritual as old as time . . . and as inescapable as eternity.
Click Here to Read Chapter 1
Re-issue Release Date: November 28, 2017
Number of Pages: 358 pages
Publisher: Avon
Language: English
Re-issue ISBN: 0062019511

Re-issue Release Date: December 2010
Number of Pages: 358 pages
Publisher: Avon
Language: English
Re-issue ISBN: 0062019511

Re-issue Release Date: April 29, 2008
Number of Pages: 368 pages
Publisher: Love Spell
Language: English
Re-issue ISBN: 0843960566

At last. Gregori's story. This is a powerful book of dark emotions. Gregori has waited so long it is well past his ability to make the choice to choose to walk in the sun. Dangerously close to turning, he claims his lifemate. Savannah is far too young to stand up to a man as powerful as Gregori, yet she learns it is love that gives her that power. Yet a fledgling, Savannah calls on the strengths of her parents and chooses to learn to walk beside a dangerous man, not behind him. This is a dark, erotic story that takes you from the mountains of Northern California to the steamy city of New Orleans with plenty of action and fascinating characters.
---
~DARK MAGIC FAQ's~
FAQ: Who is the male cover model on the original cover of Dark Magic?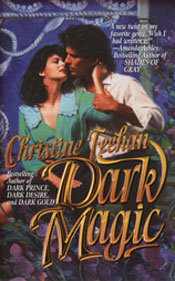 We are still looking for the name of BOTH the female and the male cover model from the original Dark Magic book cover. If you can help by providing any of this information please email: christine@christinefeehan.com.
---
~DARK MAGIC AWARDS & HONORS~
Winner for 2000 PEARL Awards
for Best Shape-Shifter

Winner for 2000 PEARL Awards
for Best Overall Paranormal Romance

Finalist for 2001 Rita
for Paranormal category

Winner for 2000 Romance Books & Readers
for Contemporary

Winner for 2000 Romance Books & Readers
for Best Hero (Gregori)

Winner for 2000 Romance Books & Readers
for Hottest Scenes

Finalist for 2000 All About Romance Awards
for Most Tortured Hero

Winner for 2000 RBL Hughie Book Awards
for Favorite Hero (Gregori)

Winner for 2000 RBL Hughie Book Awards
for Hottest Scene (bathtub)

Recommended by Barnes & Noble
---
~DARK MAGIC BESTSELLER LISTS~
USA Today Bestseller List
Waldenbooks Bestseller List
Amazon Bestseller List
Siren Books Bestseller List
Walmart Bestseller List
---
~DARK MAGIC REVIEWS~
Under the Covers
Reviewed by Janice Bennett
Very Highly Recommended
The moment Feehan fans have been waiting for has arrived! Finally she gives us the story of Gregori, one of the oldest and most deadly of the Carpathians, and Savannnah, the daughter of the prince of the Carpathians. The coming together of these two strong people is explosive and riveting! You will find yourself so caught up in this story that you will forget that these people are not real beings, only figments of Ms. Feehan's vivid imagination. I highly recommend Dark Magic, as I also recommend each of the prevous books in this Dark Series.
Barb's All About Romance Book Store
Reviewed by Cathy McNabb
Well it is finally here, that book that we have all been waiting for, Gregori's story. How many times have we waited and waited for that certain book to come out and then when we finally get it in our hot little hands, we are sorely disappointed with what we are reading? Well, let me tell you, Dark Magic one of those books. Ms. Feehan delivers the goods as promised on this one.
Romantic Times
Reviewed by Jill M. Smith

Top Pick
Christine Feehan's magically enthralling series continues with the story of dark, and charismatic Gregori. With each book Ms. Feehan continues to build a complex society that makes for mesmerizing reading.
UreviewIt, Heartbeat, WriterSpace.com
Reviewed by Sara Reyes
Gold Heart Keeper!
Buy two copies! You will need them for the rereads! Dark Magic is a fast-paced thrill ride.
Bookaholics
Reviewed by Susan Caraballo
Dark Magic is definitely a Keeper! Dark Magic, the fourth book in Christine Feehan's Carpathian series is a dark and erotic story that will leave the reader breathless.
Siren Books
Reviewed by Angela Orbien
I personally loved Dark Magic the most, out of all the books in the series. The action starts almost immediately in the first pages and you get caught up in the story right away. Needless to say, if you have been following the series, you won't be disappointed!
Sime-Gen Romance
Reviewed by Carol Castellanos
Finally, the most anticipated book as well as favorite character of the series is here, Gregori's story. I think all the Gregori fans out there will NOT be disappointed.