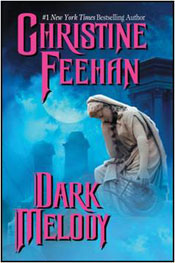 They were masters of the darkness, searching through eternity for a mistress of the light…
Lead guitarist of the Dark Troubadors, Dayan was renowned for his mesmerizing performances. His melodies stilled crowds, beckoned, seduced, tempted. And always, he called to her. His lover. His lifemate. He called to her to complete him. To give him the emotions that had faded from his existence, leaving him an empty shell of growing darkness. Save me. Come to me.
Corrinne Wentworth stood at the vortex of a gathering storm. Pursued by the same fanatics who'd murdered her husband, she was risking her life by keeping more that one secret. Fragile, delicate, vulnerable, she had an indomitable faith that made her fiery surrender to Dayan all the more powerful. This was the one woman whose loss would destroy him, even as her love promised to heal his soul.
Click Here to Read Chapter 1
Release Date: November 2003
Number of Pages: 374 pages
Publisher: Leisure Books
Language: English
ISBN: 0843950498
This book is an emotional story about a couple desperately trying to come to terms with finding one another at the wrong time. Many people refer to it as the reunion book, but it was written about Dayan and Corrine, to tell their story of love and laughter and tears and coming to terms with what matters. Carpathians gather, as they often do when there is need to try to save the couple and their priceless unborn infant. I hope you enjoy this love story.
---
~DARK MELODY AWARDS & HONORS~
Winner for the 2003 PEARL Award
for Best Shapeshifter
Winner for the 2003 PEARL Award
for Favorite Overall Paranormal

Winner for 2003 Fallen Angels Award
Best Novels of the Year

Nominated for 2003 Romantic Times Award
Best Vampire

Nominated for 2003 Romantic Times Award
Best Mainstreem Novel

Winner for 2003 Love Romances
Golden Rose Reader's Choice Awards
Best Shapeshifter Romance

Honorable Mention 2003 Love Romances
Golden Rose Reader's Choice Awards
Best Paranormal Romance

Honorable Mention for 2003 Love Romances
Golden Rose Reader's Choice Awards
Best Vampire Romance
---
~DARK MELODY BESTSELLER LISTS~
New York Times Bestseller List
USA Today Bestseller List
Waldenbooks Bestseller List
B Dalton Bestseller List
Barnes & Noble Bestseller List
Barnes & Noble Online Bestseller List
Amazon Bestseller List
Sirenbooks Bestseller List
Publisher's Weekly Bestseller List
Ingram Bestseller List
---
~DARK MELODY REVIEWS~
Reviewed by Jill M. Smith


Top Pick
The Carpathains are out in full force in this latest, exhilarating chapter of Feehan's Dark series. Dayan and Corinne's love story is poignant and compelling and makes for a terrific addition to this incredible series.
Publisher's Weekly
...She (Feehan) creats a richly evocative fantasy world....love scenes sizzle....her most emotionally engaging enstallment to date.
Reviewed by Kelley Hartsell
http://www.loveromances.com

This is a story to be savored, for it has so much more to it than many of the preceding books. This reviewer is very selective when rating books, not liking to give out the highest ratings possible to books unless they are truly deserving of it, near perfect in every way.

Ms. Feehan has filled this book with so much emotion, that one will be overwhelmed, becoming totally engrossed in the lives of the characters. The reader will laugh, cry, rage at fate, be overjoyed, and cry some more. Be forewarned, this is not a book to be taken lightly, nor to be read in a restaurant full of people, or a lot of strange looks will be received over the tears pouring down one's cheeks. This reviewer speaks from experience. Ms. Feehan is a master of drawing her readers into her world, feeling so much for her characters, but this book... this book is the most heart-wrenching to date. In addition to the emotional story of Corinne and Dayan, this is the long-awaited "reunion" story, bringing together so many of the beloved characters from past books, as they all work together to save Corinne. The final climactic scene, to save her life, is so well-done, so powerful, one is afraid to breathe until it is over, begging for the conclusion so longed for.

Every book in the Dark saga is character driven, though with a strong plot to support the characters. This one however, is even more so, due to the nature of Dayan and Corinne's relationship. She is restricted by her health, less able to have adventures, but there is still enough action to keep one captivated, driving on towards the desired happy ending. What else can be said about this story? Ms. Feehan is a master, her voice as fresh and new as it was with her first book. There can be no doubt in anyone's minds that she is bound for bigger and better things, guaranteed to please even the most particular of readers. Run out and buy a copy of this book today, and be prepared for an emotional roller-coaster ride into a spectacular world.
Reviewed by Kari Thomas
5 roses
Ms. Feehan is an exceptional writer, bringing --- no, wringing --- the emotions from her characters, making the reader FEEL right along with the hero and heroine; and Dark Melody is her most passionate, soul-touching story to date. Reader-fans will be glad to see familiar faces from the pervious Dark books and will find themselves holding their breaths as the Immortal Carpathians do everything in their power to save Corinne and her baby, and ensure Dayan's lifemate is with him for eternity.

This was a beautiful love story, filled with passion as well as incredible compassion. Both Corinne and Dayan were so strong, despite the obstacles, and this reviewer can truthfully say that this book will forever remain my favorite of Ms. Feehan's.

If you want a story that will touch your heart, make you 'feel' with the characters, and leave you with that happy-ever-after feeling when finished reading, the Dark Melody is a 'Must-Not-Miss' book!
Reviewed by Missy Andrews
Arabella Magazine
In DARK MELODY, Christine Feehan creates a world filled with such intense emotions that it is impossible not to feel the anguish and desperation of Dayan and Corinne as they face what seems to be totally insurmountable difficulties. I have read and enjoyed all of the books in the Dark series but I truly believe that this one is the most emotionally intense one to date. There is not a lot of vampire action instead the true "action" in the story is in the dialogue and emotion as expressed through the characters. And what a host of characters there are. DARK MELODY brings together several characters from the early books. These characters, from Cullen Tucker to Gregori, all play a very important role in the outcome of this emotionally riveting story. Having all of these Carapathians together in one book is one of the many things that make this an unforgettable tale. There is a secondary romance between Cullen and Lisa, there is the unbreakable bond of friendship between Corinne and Lisa, and there is the indescribable love between a mother and her unborn child.

I would have to say the one thing that is the glue that holds this book together and made it impossible to put down is the character of Dayan. From the very first word, he came to life right before my eyes. He is by turns seductive, brooding, playful and even violent when the need arises. Ms. Feehan uses such vivid imagery and emotion to describe him that no matter what his mood I felt like I was experiencing the feeling right along with him.

The history and origin of the Carapathian race is revealed in bits and pieces throughout the book so, technically, someone who has never read any of the previous books of the series could read and enjoy it. However, I always recommend that books in a series are read in order and that recommendation is doubled for this twelfth book of the Dark series. With so many characters from previous books playing such an important role, the dynamics of the relationships will be much more understandable for the reader who is familiar with the series.

I always close a Dark book eagerly awaiting the next one but never more so than now. Dayan and Corinne's story is one that will stay in my mind for all time because of the intense emotion, unconditional trust and unwavering friendship portrayed by the characters. A not to be missed read.
Reviewed by Bee
Danger lurks everywhere in this emotion packed story as Dayan and Corrine work to find their way to becoming the lifemates they are destined to be. Corrine and Lisa are stalked by The Morrison Center who is targeting them since Corrine is a psychic; they murdered her husband just after she got pregnant. Corrine who knows that her pregnancy is an almost certain death sentence does her best to hold on to life, determined to save her child even at the expense of her own life, while Dayan is equally determined to save her life and the life of the precious daughter that she carries.

Dark Melody tells the tale of familial love, the terror every mother feels when the life of her unborn child is in danger, the courage to carry on under the most trying difficulties and the love that allows true lifemates to beat even the most daunting odds. Ms Feehan has you on the edge of your seat in her latest Dark Carpathian story. You will be terrified by the killers stalking the foursome, praying as they work to save Corrine and her child, crying as Dayan and Corrine face the very real possibility of her death and cheering for Darius, Gregori and Shea, the Carpathians greatest healers to reach Corrine in time to save her and Dayan. Be prepared to stay up all night reading to the dramatic end of Dark Melody.
Reviewed by Brenda Carol
I've been a fan of Christine Feehan's books since the first one, DARK PRINCE came out. Each book has been my favorite, each Carpathian male has held a special place in my heart until the next book with it's sumptuous hero comes out.

This book is extraordinary. Ms Feehan has managed to convey the heartache of a terrible disease, the love and adulation of a miraculous man with the skill and talent, she continually displays in her writing. The many fans of the Dark series will enjoy seeing characters from previous books and learning what's happened in their lives. This book will show up on reader's shelves as a keeper and one to read over and over again. I know it will on mine.
Reviewed by Katherine Schlem
Christine Feehan fans will find this book one of the premier additions to the ever-growing, ever-expanding universe of the Carpathian Race. A book of ultimate love and tremendous self-sacrifice, this book is an emotional roller coaster, making you weep for Dayan's plight, and making you joyful at the strength of his lifemate, Corrine.

Dayan is a member of the Dark Troubadours, whom we meet originally in Dark Challenge and follow through Dark Fire. He has left the band, searching for his salvation. He finds it, in an extraordinary woman named Corrine. However, heartache is to come for them both. Corrine is ill, tragically ill. And she is pregnant. This is a story of a love which will sacrifice all to exist.

If you ever wanted a relationship which shows love against all odds, this is the book for you. A perfect addition to the series, which never gets stale. It continues to get more and more exciting as each new book is released.