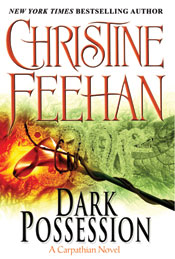 Manolito De La Cruz knew he was dangerously close to turning into a vampire. The last thing he expected after being called back to his Carpathian homeland by Prince Mikhail was to catch the scent of his destined lifemate in MaryAnn Delaney. MaryAnn is human, but she knows all too well the overwhelmingly aggressive instincts of Carpathian males. And they're not exactly the kind of men she'd prefer to be bound to for life.

A dedicated counselor for battered women, MaryAnn has a fulfilling life with no room for someone like Manolito, born and bred in the Carpathian Mountains, a law unto himself. But when MaryAnn agrees to go to South America to offer guidance to a brutalized young woman, she's oblivious of the trap that awaits her in the sweltering thick of the jungle. She has been lured there by Manolito himself, who has seductive plans for the unaware, irresistibly human female.

Once there, she will be his. Once his, she will never be released. He is her lover, her predator, her lifemate. She is his dark possession....
Click Here to Read Chapter 1
Release Date: August 28, 2007
Number of Pages: 368 pages
Publisher: Berkley Hardcover
Language: English
ISBN: 0425217094
Manolito De La Cruz has been an intriguing character from the beginning. He was always a law unto himself. He enjoyed challenges and pitting himself against the other hunters as well as his enemies. He was such a mixture, because he also had such an overwhelming sense of honor. He put himself in harm's way over and over in order to carry out his duty.

MaryAnn Delaney is a counselor for battered women and she has an amazing sense of caring which gets her into situations she would rather not be in. She loves her Seattle and avoids nature any chance she gets, so what is she doing out in the middle of a rainforest with only a can of bug spray and a cannister of pepper spray? These two were so fun to work with. I never knew what was going to happen next. It was an extraordinary battle yet so tender and funny! I hope to meet them both again soon just to see how they're doing.
---
~DARK POSSESSION BOOK TRAILER~
The Making of Dark Possession article by Sheila Clover English is now available in the Members Only Section of my site. The book trailer and the TV Ads will be added soon. Here is a slide show of pictures from the shoot:
---
~DARK POSSESSION BESTSELLER LISTS~
New York Times Bestseller List
Publishers Weekly Bestseller List
USA Today Bestseller List
Barnes & Noble Mass Market Bestseller List
Borders Bestseller List
Amazon Bestseller List
Booksense Bestseller List
Wall Street Journal Bestseller List
Washington Post Bestseller List