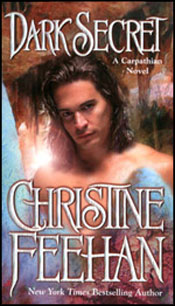 Rafael De La Cruz has spent centuries hunting vampires with his brothers, and with each passing year his capacity to feel emotions has grown weaker and weaker until finally there's barely been a memory left-until only sheer willpower keeps him from turning into the very abomination he hunts. But it'll take more than will to keep him away from the woman who is meant to be his and his alone…
For five years, rancher Colby Jansen has been the sole protector of her younger half-siblings, and with fierce determination and work she has kept her family together and the ranch operational. Now, the De La Cruz brothers are threatening that stability. They claim that her siblings belong with their father's family, not with her. Colby vows to fight them-especially the cold and arrogant Rafael De La Cruz. But Rafael is after more than her family-he wants Colby and will not let anything stand between them. After ages of loneliness, the raw desire to possess her overwhelms his very soul, driving him to claim her as his lifemate….
Click Here to Read Prologue
Click Here to Read Chapter 1
Release Date: February 2005
Number of Pages: 400 pages
Publisher: Jove Books
Language: English
ISBN: 0515138851
Raphael is one of five brothers sent out by Prince Vladimer, Mikhail's father, to keep the South American continent safe from the depraved vampire. Forced to travel to the United States to recover two children belonging to the family that has been loyal to him throughout the centuries, he finds a young woman unlike anyone he has ever known. Shrouded in mystery, murder and plagued by accidents, she holds on to what is dearest to her despite all the odds against her. This book is the second in a five-book series within the Dark Books about the South American brothers. (The first is Dark Hunger in the Hot-Blooded anthology.)

---
~DARK SECRET FAQ's~
FAQ: Who is the cover model for Dark Secret?
The cover model for Dark Secret is Tracy James. He was identified by one of my wonderful readers!
---
~DARK SECRET BESTSELLER LISTS~
Amazon Bestseller List
New York Times Bestseller List
Publishers Weekly Bestseller List
USA Today Bestseller List
Barnes & Noble Mass Market Bestseller List
Barnes & Noble Romance Bestseller List
Barnes & Noble Online Bestseller List
B Daltons Bestseller List
Borders Bestseller List
Bookscan Bestseller List
Waldenbooks Mass Market Bestseller List
Waldenbooks Bestseller List
Walmart Bestseller List
---
~DARK SECRET REVIEWS~
Romantic Times
Reviewed by Jill M. Smith

With each new chapter in this utterly compelling series, new hints about the vampire¹s master plans are revealed.Without a doubt, Feehan is a high priestess in the world of vampire fiction.
Five Roses
Reviewed by Kari Thomas
LoveRomances.com
This reviewer is a long time fan of Ms. Feehan's and eagerly looks forward to every new book. This latest "Dark" book is a bit different from the previous books as Rafael is a darker hero, closer to turning than any other hero has been. The "darkness" within Rafael looms too close to the surface, and he doesn't have it in him to be patient with Colby.

Any other hero like that, with his alpha-male attitude, his roughness and relentless, deep hunger, would not be a favorite with readers. But Ms. Feehan brings Rafael to vivid life and readers will see far beyond the surface of his demeanor. He's a dark hero that will definitely be long remembered by readers. And Colby will be a surprise too. Her secret heritage will hint at a new saga for the "Dark" series. This reviewer loved her strength of will, and her incredibly unselfish love for her brother and sister. She's the type of heroine that love stories are made of. She and Rafael are perfectly matched, and readers are left with the knowledge that their love will be beyond all expectations for either of them.

A definite "Don't miss" on this book!
Romance Reviews Today
Reviewer Kathy Samuels
Another great book in Christine Feehan's Dark series. DARK SECRET is longer and darker than the previous tales. Colby has stood on her own for years, taking on the responsibility of raising her brother and sister when she was little more than a child herself. She sees no reason to allow the Chavez family into their lives now, years after she requested their help. And meeting the de la Cruz brothers does nothing to endear them to her. For some reason, though, she can't seem to shake Rafael. She's not sure why, but something in him calls to her, even though his high-handed attitude grates on her nerves. Rafael is a much darker hero than the Carpathians in the previous novels. Close to turning into a vampire, he has lost any feeling at all and considers himself and his brothers superior to humans. Rafael's arrogance matched against Colby's pugnacious attitude create a cauldron of emotion that makes for a complex and often conflicted relationship. Ms. Feehan's introduction of a new family line, the Dragonseekers, and hints of a sorcerer will wet the readers whistle for the next story in this highly successful series.

DARK SECRET is a fabulous tale of a dangerous and charismatic hero and the woman who loves him.
Romance Junkies
Reviewers Brenda Edde
Ms. Feehan gives us more Carpathian history when we find out who the vampire is in DARK SECRET and we move the next small step down the road she has been leading us to find who is setting up the vampire conspiracy for control of their species. She adds a cameo appearance from Vikirnoff from DARK DESTINY that will tantalize you and make you crave DARK DEMON which won't be coming out for a too long a time.

I love Ms. Feehan's Carpathians and DARK SECRET is no exception to the great series she has created. It took me a bit longer to warm up to Rafael but you will come to appreciate his code of honor as he struggles to do the right thing for his extended family, and his lifemate. Colby's feminism keeps stopping her from realizing the truth about her feelings for Rafael until it is almost too late. However, you will find out in a surprise twist that she comes by her stubbornness honestly. An unstoppable force meets an immovable object is a good description of Ms. Feehan's newest addition to the Dark Series, DARK SECRET. You will love the friction that results from the meeting of Rafael and Colby; it is hotter than the rainforests that Rafael comes from.
Loves Romances
Reviewed by Kelley Hartsell

Colby is quite the heroine, strong willed, with a fiery temper to match her red hair. Her life is her family and she will stand for no one stepping in and trying to take them away from her, or telling her how to run her ranch and her own life. She is stubborn and determined… more then an equal match for the domineering Rafael. He has lived centuries, defending his family, his people, his prince from evil and he knows nothing of tenderness and patience. Finding his lifemate when he is on the brink of turning evil himself, makes him darker and more dangerous then previous heroes in the Dark saga. He has no time to cater to Colby's need for space to come to terms with what will be her new life, yet he holds out converting her as long as he can, knowing that each day he does not bind her brings him one step closer to eternal damnation as a vampire. There are numerous characters in this story, possibly more secondary players then most preceding books. Paul and Ginny, Colby's half-siblings are loveable and kind, showing a more tender kind of love... that of one for family. They are key to understanding Colby's personality as her entire life revolves around them. The vampire is malicious and cruel, extremely powerful… possibly the strongest readers have yet met. Juan and Julio, the Chevez brothers start out mysterious and suspicious, but readers come to trust them along with Colby and company. A few characters from previous books return once more adding more depth to this story, and preparing readers for their own which are surely soon to come. Also, some new people are introduced that are deeply mysterious and guaranteed to make one wonder just what their story is.

Readers are bound to be captivated by Dark Secret by Christine Feehan. This story will please fans of the series, be they old or new, and leave them hungry for more.