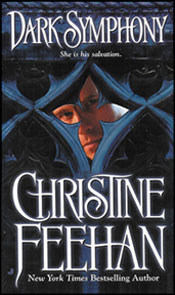 Byron, a Carpathian male and hunter of the vampire follows the sound of compelling music to Italy. There he discovers his lifemate, Antoinetta Scarletti, heiress to the great Scarletti fortune. A renowned concert pianist, Antoinetta is the glue that holds the Scarletti family together. Blinded in an explosion that killed her parents, she nevertheless stands to run the family shipping business.
Antoinetta lives in the palazzo della morte, the palace of death. There, like her ancestors, she finds someone wants her dead. Antoinetta has a few secrets of her own and together, Byron and Antoinetta face the killers and one out of control Carpathian youth.

Click Here to Read Prologue
Click Here to Read Chapter 1

Release Date: February 2003
Number of Pages: 352 pages
Publisher: Jove Books
Language: English
ISBN: 0515135216
Mass Market Paperback

Amazon.com
BarnesAndNoble.com
Walmart.com

printable order form for bookstore

Order E-book

Amazon.com (Kindle)
ItunesApple.com (Ipad)
BarnesAndNoble.com (Nook)
Ebooks.com (various devices)

Order Audio Book Format


Large Print Hardcover

No Longer Available

Order Oscura Sinfonia
Dark Symphony in Spanish

Amazon.com
Amazon.co.uk
Tienda.CyberDark.net

Dunkle Symphonie der Liebe
Dark Symphony in German

Amazon.de

Feehan Paperback Box Set
Oceans of Fire, Shadow Game,
& Dark Symphony

No Longer Available
I'm very excited to be bringing back the setting of this book as I loved the dark secrets in the palazzo. In the secret passage ways are hidden treasures, not the gold everyone would think but a history of the strange people who settled in the village on the Scarletti land and made a pact with the Scarletti family to intermarry with them and share the precious blood of a near-extinct lineage.
---
~DARK SYMPHONY FAQ's~
FAQ: Who did the artwork for the cover of Dar Symphony?
Daniel O'Leary designed the cover for Dark Symphony. He is an enormous talent and one I hope to have work with my books often! Many thanks to Daniel for his innovative idea.
FAQ: Who is the cover model on the cover of Dark Symphony?
The cover model for Dark Symphony is Jack Hartnett! I don't have an address at this time where he can be reached for fan mail but if I receive one, I'll post it.
---
~DARK SYMPHONY AWARDS & HONORS~
Nominated for the 2003 PEARL Awards
for Best Shapeshifter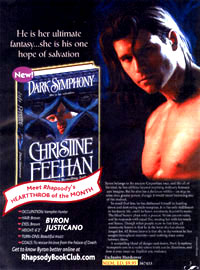 Byron Justicano from Dark Symphony
made Rhapsody's Hearthrob of the Month!
---
~DARK SYMPHONY BESTSELLER LISTS~
Amazon Bestseller List
Amazon's Customer Best Romace Books of 2003 List
B Daltons Bestseller List
Barnes & Noble Bestseller List
Barnes & Noble Online Bestseller List
Borders Bestseller List
NY Times Bestseller List
Publishers Weekly Bestseller List
Rhapsody Book Club Bestseller List
Sirenbooks Bestseller List
USA Today Bestseller List
Waldenbooks Bestseller List
Walmart Bestseller List
---
~DARK SYMPHONY REVIEWS~
Publisher's Weekly
"Feehan's followers will be well sated by the latest addition to her Dark series (after Dark Guardian), set in modern-day Italy. This time around the focus is on Carpathian vampire hunter Byron Justicano, a "good" vampire who feeds only to sustain himself. He is drawn to the haunting music created by Italian concert pianist, Antonietta Scarletti, the woman he has chosen to be his "lifemate." Blinded and orphaned as a child by an explosion on the family yacht, Antonietta, a strong psychic, is heir to the Scarletti family fortune and the massive Scarletti palazzo, which accommodates all her relatives. When Byron learns that someone within the family is siphoning off the family treasures and slowly poisoning Antonietta, her grandfather and her cousin, he draws upon his supernatural powers to catch the villain. Feehan's prose is smoothly laced with romance and erotica, and the subject matter is titillating. But new readers may be daunted by the complexity of the Carpathian world, which has its own set of rules (e.g., Carpathian males can mate for life only with mortals who are psychic, and if they don't mate, they lose their emotions). Once readers gain a foothold in Feehan's fictional realm, however, they'll be roped in by this unconventional and intriguing installment."

Copyright 2003 Reed Business Information, Inc.
Reviewed by Val Phillips, Reader
The tone of the book is much lighter then Ms Feehan's previous stories, with her sense of humour very much at the fore. You will not look at an Irish Lace Table Cloth, an Italian Chef or Spiderman in quite the same way after reading this story. I heartily recommend this book, once you start reading it's impossible to put it down.
Romantic Times
Reviewed by Jill M. Smith


Top Pick

Christine Feehan and her fascinating Carpathians are back! With her first book for her new publisher Jove, Feehan dives right back into the complex world that has made her a bestseller. By bringing in the Scarletti family, Feehan also intertwines the family history from her Gothic novel The Scarletti Curse.
Rendezvous magazine
Reviewed by Darlene Kendall
Ms. Feehan gives us a bonus with the heroine who's a descendant of the characters from THE SCARLETTI CURSE. By combining these two extraordinary characters, DARK SYMPHONY is utterly delightful. It's suspenseful, funny, and blazingly sexy and Ms. weaves her usual magic in creating another keeper for this superb series that continues to be different and exceptional while getting better book by book.
Sime~Gen Inc.
Reviewed by Diane Mason

With DARK SYMPHONY, Christine Feehan has taken her Dark series to a new level. With the introduction of the Jaguar she has flawlessly woven a tale of two species coming together. With Jaguar blood in her there are new possible conflicts when Antonietta converts to Carpathian. I found this story to be perfectly paced and positively spellbinding. If you haven't been compelled yet, this book will definitely get you. Consider me screaming for the next one. I can't wait to see what Ms. Feehan has in store for us.
The Word On Romance
Reviewed by Robin Peek
Author Christine Feehan dazzles readers once again with her Carpathians in DARK SYMPHONY. I absolutely adored Byron and the way he cared for Antonietta and her family without blinking an eye, and her acceptance of him was heartwarming. I applaud Ms. Feehan with her latest tale, DARK SYMPHONY. The sexual tension, the well drawn characters and their story will stay with you long after you've finished the book. Get your copy today.
Timeless Tales
Reviewed by Bee

It is difficult to believe that Ms. Feehan has raised the level yet again on her Dark Series, the riveting stories of an ancient race struggling to beat extinction. With the addition of Byron's story, we see a continuation of the Carpathians who are willing [barely] to wait to claim their lifemates and a new lineage that may help to solve the problems the Carpathian race faces. She has seamlessly merged her Gothic story line from Scarletti's Curse into her Dark Series in a manner that makes this reviewer giddy with the possibilities for her future books. The richness of her characterizations and the broadening of an already extensive world will delight her already dedicated fan base. The compulsion to read her books will only draw more and more fans as her books continue to draw the critical praise they so richly deserve. The only problem you face after reading Dark Symphony is the interminable wait for Dark Descent, part of The Only One anthology coming in May.
Escape to Romance
Reviewed by Darlene Howard
I highly recommend DARK SYMPHONY. If you like story lines along the vampire line, you will be much surprised by these stories. Christine Feehan is a very gifted author. I feel myself being pulled into the story as I read each new book in the Dark series. Every one of these books stands on their own but ties back into each other. I can hardly wait for the next book to come out. I read the first story, DARK PRINCE, years ago, and I was re-introduced to it again last year. I had a mission to own all of the books in this series. It took me a couple of months and many used bookstores to find all the issues, but I did it. I can say that these books have found a permanent place on my bookshelf for life. I usually buy two of each. One set to loan and one that never leaves my home. Keep up the good work, Christine Feehan.
Reviewed by Katherine Schlem, Reader
Review posted at http://www.BN.com
Ms. Feehan does it again, her tremendous talent is only overshadowed by the love her fans have for her. She has risen to the top of the heap and holds court with those respected market wide, comparable only with the likes of JD Robb/Nora Roberts, Danielle Steele, Mary Jo Putney, and Frank Herbert. I would highly suggest this title, even to new fans, and old fans will find the complexity of the Carpathian world continues to evolve.
Romance Reviews Today
Reviewed by Carol Carter
Under The Covers
A PERFECT TEN
Christine Feehan has magic in her voice and DARK SYMPHONY brings her personality alive to her readers. There is mischief and much humor when Byron's sister Evelyn appears with her husband Vlad and their son Josef, and a strong thread of familial love. The teenage Carpathian is about to drive Byron crazy with his rap music and untried skills, much to the amusement and silent laughter of Antonietta and the enjoyment of readers. Much of the Carpathian history and legend is learned in this story, and many of the characters from former novels appear.

Just as a composer takes music notes and instruments to put together a beautiful arrangement, so has Christine Feehan blended the elements of fiction to create a masterpiece. DARK SYMPHONY touches your emotions, mixing in gothic, contemporary, historical, fantasy, paranormal, sensuality, romance, and mystery. You'll find murder and suspense as someone is out to kill off the Scarletti family, and a superb job of writing plants suspicions on every one of the characters to keep you wondering who the killer is. DARK SYMPHONY will surely hit the bestseller lists when it is released and prove why Ms. Feehan has risen to the top so quickly. I congratulate her in advance for what I consider another winner, and am awarding DARK SYMPHONY a Perfect Ten, the highest honor a reviewer can give at Romance Reviews Today. They just don't get any better. This title will jump off of the store shelves so fast that I would suggest you pre-order to be sure you have a copy as soon it's released.
Love Romances
Reviewed by Kelley Hartsell
Ms. Feehan is a phenomenal writer, with lots of talent and skill for weaving worlds that will keep one entranced from the first to last page. It is no wonder she is one of today's most loved paranormal romance authors. If Dark Symphony is any indication, she will continue to keep her huge following on the edges of their seats, eagerly anticipating each successive book in this series, or any others she chooses to write. There is a reason her books continue to be bestsellers, and this book is no exception.
Reviewed by Kathy Boswell
Managing Editor, The Best Reviews
Member, Reviewers International Organization (RIO)
Christine Feehan takes a descendant of the Scarletti family (See THE SCARLETTI CURSE) and makes her a life mate to a Carpathian. Then she explains how a race of jaguar people asks the Scarletti ancestors for sanctuary. What more can you ask for in a book? I was completely enthralled. ……….

I know that every time I read one of Christine Feehan's books I say this is her best one ever but I really believe her books just get better and better. I know I for one cannot put them down. Her characters are so colorful and so diverse. I never know what treat is in store for me from page to page. As always, I eagerly look forward to the next book from Christine Feehan.
The Bookdragon Review
Reviewed by Melanie C. Duncan
Attempted kidnappings, poison, family secrets and a killer roaming the estate lend a gothic atmosphere, neatly tying Dark Symphony to Feehan's non-Carpathian historical romance, The Scarletti Curse. While it is not necessary to have read The Scarletti Curse first, readers intrigued by the Scarlettis will be quick to explore the family's history. Feehan continues to delight fans with her brooding heroes, feisty heroines, and plot twists that keep her series from becoming stale. Fans will be haunting the stores for this installment, so reserve your copy now at your favorite bookstore.