~DEADLY GAME~
Last Updated: March 06, 2015 11:14:48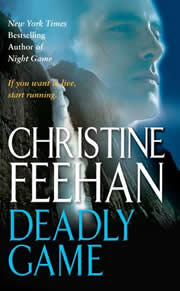 It began as a mission to find a notorious politician whose plane went down in the Congo. But the risky operation took an unexpected turn when Mari, a physically enhanced member of the rescue team, was taken hostage by rebel forces. Now, imprisoned in an isolated compound, Mari has only chance for survival - escape. What she doesn't count on is Ken Norton, expert assassin and himself a Ghostwalker warrior, fighting to get behind the prison walls on a mission of his own - one that reaches into Mari's own past and the mysterious fate of her twin sister. . . and that will bind Ken and Mari in an intoxicating passion that raises the stakes on the deadliest game of survival they've ever played.

Click Here to Read Chapter 1
Release Date: February 27, 2007
Number of Pages: 368 pages
Publisher: Jove
Language: English
ISBN: 0515142611
---
~ORDER DEADLY GAME~
---
~GHOSTWALKER T-SHIRTS
BY CAROL CARTER~
---
~DEADLY GAME BESTSELLER LISTS~
New York Times Bestseller List
USA Today Bestseller List
#1, Publishers Weekly Bestseller List
Amazon Bestseller List
Barnes & Noble Mass Market Bestseller List
Bookscan Bestseller List
Borders Bestseller List
Waldenbooks Bestseller List
---
~DEADLY GAME REVIEWS~
"Another fantastic GhostWalker tale with snappy dialogue, believable characters and stunning setting."

DEADLY GAME is one of those stories you start and then can't do anything else until you've finished it -- and are then sorry when it's done. The dialogue is snappy, the characters totally believable and the setting is beautiful. The bad guy gives you cold chills and makes you hope there isn't someone like him behind the scenes in the real world, even though in your secret heart, you're afraid there is. The plight of the girls will tear at your heartstrings and make you want to gather them together into a big, sloppy group hug. So let the dishes go, wait until tomorrow to fold the laundry, give the spreadsheet to someone else to do and tell the boss you're taking a mental health day. Pick this one up at your favorite bookstore and settle in for a long, comfy afternoon. I loved this one and I'll bet you will too. A very good read.
Romance Junkies
reviewed by Brenda Edde
As I was reading DEADLY GAME, I was overwhelmed by the image of a giant spider web, with the brilliant but demented Dr. Paul Whitney starring in the lead role of the deadly spider. Ken, Mari, Jack and the rest of the Ghost Walkers dance on the web, getting chances here and there to tear it apart. Whitney, however always seems to spin another more complicated web to trip up the team. A master storyteller, Ms. Feehan has taken this series to a new level, her extensive military, scientific and medical research gives her reader an education as well as a good read. More important is her emphasis on the emotional state of her characters. DEADLY GAME is a perfect example of the depth and character she puts into her books. Ken's story of a brutal childhood and a torture that would have broken a lesser man combined with Mari's sense of honor and commitment bred in an environment that would seem to preclude both are both proof of Ms. Feehans understanding of the frailities of human nature and her belief that with love and support we can all come through the worst that life can throw at us and come out on the other side stronger. I recommend this series highly, truly a keeper and a definite book to read again and again.
Romance Junkies
Reviewed by Dorine
The Norton twins and several more of your favorite characters from the GhostWalker Series are back in a paranormal thriller that is one hell of a wild ride!

DEADLY GAME is the fastest-paced, most action-packed, gut-wrenching, adrenaline-driven ride I've ever experienced. Completely worn out and utterly sated at the end, I wanted to start at the beginning and read it all over again. The sensuality is raw, building slowly, lulling you right with Ken and Mari until the passion consumes them, along with the danger at every turn. If you crave a gripping thriller that seeps edgy sensuality from its very pores, DEADLY GAME is the rush you've been waiting for.