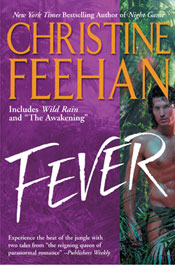 In the novel, Wild Rain, and the novella, "The Awakening", New York Times bestselling author Christine Feehan created an exotic sensual race -- the Leopard People. Fever brings the two stories together for the first time in one volume, a one-way ticket to a dizzying new world of desire...
Sensual half-human, half-leopard creatures stalk the lush rainforest of Borneo...
In "The Awakening," a beautiful naturalist's dream comes true—to live among the feral jungle creatures. But an untamed, irresistible beast of another sort inspires her to explore her own wild side…
And they mate for life.
Wild Rain's Rachel Lospostros has escaped from a faceless assassin and found sanctuary thousands of miles from home, under the towering jungle canopy. In this world teeming with unusual creatures she encounters Rio: a native of the forest imbued with a fierce prowess, and possessed of secrets of his own. When Rio unleashes the secret animal instincts that course through his blood, Rachel must decide if he is something to be feared—or desired…

Click Here to Read The Awakening Chap 1
Click Here to Read Wild Rain Chap 1
Release Date: January 3, 2006
Number of Pages: 416 pages
Publisher: Berkley Trade
Language: English
ISBN: 042520751X
---
~ORDER FEVER~
---
~AUTHORS NOTES~
For some time now, I have had many requests for The Awakening and Wild Rain to be released together. I'm so pleased to announce that now they are in a new trade book titled Fever! I hope this makes it easier for those of you who have said they have had trouble finding The Awakening which was previously released in an anthology titled Fantasy. I'm very thankful to Berkley who answered all your requests. Enjoy!
---
~FEVER FAQ'S ~
FAQ) Who is the cover model for Fever?
The male model for the Fever cover is Nathan Kamp.
---
~THE AWAKENING AWARDS~
Winner of the PNR Grass Roots
Silver Chalice Award
for Best Short Story: The Awakening

Winner of Golden Rose 2002
Readers Choice Award at Love Romances
for Best Novella: The Awakening


Finaled in the 2004 PEARL Awards
for Best ShapshifterWinner
---
~REVIEWS FOR THE AWAKENING~
Carol Carter, Reviewer
Romance Reviews Today
THE AWAKENING is more than an awakening of sensuality in Maggie. It's an awareness of who and what she is, and her acceptance or denial of it. This was an action packed, highly sensual read I was unable to put down until I finished the story. Christine Feehan paints a vivid description of a lush jungle inhabited by rare creatures, exhibiting a love of nature and a desire to protect it and the animals sheltered there. It has this reader wishing for her own fantasy if it were in the shape of Brandt Talbot. My, oh my, but Ms. Feehan's creative imagination surely can write a love story to make you drool. I wonder if she is planning a series of a new race to rival her Carpathians? Now, wouldn't this be a treat for her fans!
All About Romance
Sandy Coleman, Reviewer
Anyone who finds anything even remotely intriguing about cats (big ones) will probably find themselves as swept away by Christine Feehan's The Awakening, as I was. Hey, when you combine a mysterious cat-like hero with a heroine fighting, shall we say, overwhelming changes in the remote jungles of Borneo, you've got yourself a story. A compelling mix of supernatural elements and flat out sensuality, The Awakening is Christine Feehan at her best-albeit, the short version.
---
~REVIEWS FOR WILD RAIN~
Reviewed by Publishers Weekly
Feehan has a knack for bringing vampiric Carpathians to vivid, virile life in her Dark Carpathian novels, and in this new book, which builds on her short story 'The Awakening,' she focuses on a different kind of sensual predator"a half-human/half-leopard species of shapeshifters...

Suspense often takes a backseat to the protagonists romantic feelings, but Feehan handles both elements skillfully, drawing villains who are sufficiently threatening and creating a romance that feels both destined and believable. Readers whose fantasies center on untamed wilderness and on untamed heroes who are as sensitive as they are strong will be seduced by this erotic adventure.
Reviewed by Jill M. Smith

Top Pick
Kicking off another terrific new series, the highly talented Feehan explores the world of shapeshifters. The leopard people were first introduced in an earlier short story and more of their mythology is unveiled in this fascinating book.
Reviewed by Lory Martin
Old Book Barn Gazette (Feb. '04 issue)

Rachel Lospostos is running for her life. She hopes to disappear into the African jungle - a place that strangely feels like home to her. It calls to something inside her, something that wants out.

Rio Santana is part human, part leopard and all male. When he discovers Rachel asleep in his bed, he recognizes her as his destined mate and is determined to keep her.

Rachel loves the jungle and loves Rio, but she can't outrun the deadly past chasing her, or the wildness inside her struggling to be free.

When I picked up Wild Rain and starting reading, I was hooked immediately. Rachel is feminine, but spunky and independent - and Rio is the ultimate alpha male. A lively story, hot romance and a bit of suspense. It doesn't get any better than this. A very good read.
Reviewed by Kelley Hartsell
Love Romances
Ms. Feehan proves once again she can tackle whatever she sets her mind to, with ease. Readers will love this latest foray into the wilds of the rainforest, where secrets are revealed and another breed of people live...

... Ms. Feehan explores further the leopard people first introduced in her novella, "The Awakening," in the anthology Fantasy. She manages to explore the world of this unique race so fully, that the reader can't help but feel a part of it. There is no end to the adventure found here either, for the rainforest is a dangerous place at best and deadly at worst. Add in some bandits, drug dealers, poachers, and just the regular risks found in the jungle and there is plenty to keep readers engrossed and interested.

Rio and Rachael are an enchanting pair, whose passion cannot be denied. Their romance takes off, becoming even steamier then the humid jungle air. The descriptions of the shapeshifting are so well done, and with such a sensuous feel to them, that one sees the transformation vividly, fascinated by the possibility. For who wouldn't want to have such an incredible ability? To feel things as a human would, as well as have the perceptiveness and stealth of a mighty jungle cat?

There is also an underlying tension to the tale, wrought with emotion the reader gets to experience, in regards to Rio's relationship with the others of his kind, and that of Rachael and her brother. These facets of the story are explored quite fully as well, through the interactions of all of the players. The other characters of the novel are drawn so clearly, that one can feel the respect, love, or malice behind their actions. As always, Ms. Feehan hints at future stories to come, possibly involving those introduced here. Have no fear, readers, her talent is ever growing, far from becoming stale, and more adventures are sure to follow.

© Kelley A. Hartsell, December 2003. All rights reserved.
Reviewed by Brenda
Romance Junkies
WILD RAIN, the sequel to The AWAKENING found in THE FANTASY anthology takes us deeper into society of the leopard people in the rain forest. Rio and Rachel's story is a luscious tale of learning trust and the struggle to take the honorable course long after you no longer believe in that concept. The love story Ms. Feehan builds between Rio and Rachel doesn't happen immediately but grows slowly enveloping you in the steam and heat of the rain forest that it is set in. With assassins, betrayal, grief and anger clouding the emotions of her hero and heroine, Ms. Feehan again weaves her way through her story with well-developed characters and the concept of deep familial love to an ending that will keep you guessing until the last chapters. I'm already looking forward to the next installment in this series since she gave us such a tormented hero to savor at the end of WILD RAIN
Reviewed by Kathy Samuels
A Perfect 10
Romance Reviews Today
Fans of Christine Feehan, prepare for another wild ride. Well known for the rugged and gorgeous alpha-male Carpathians in her "Dark" series, Ms. Feehan has crafted a new world with similarly strong and vibrant characters. Enter the lair of the shapeshifters...

WILD RAIN is a riotous adventure, chock full of beautiful imagery, edge-of-your-seat suspense, and passionate romance. Rio and Rachael are both very strong and capable characters. Rachael has taught herself how to survive and wants no man to make decisions for her. Readers will enjoy watching her evolve as she comes to terms with her past and embraces the sensuality and freedom of her inner leopard. Rio also has to come to terms with his own past and to find the strength to forgive himself. Cat lovers will adore Fritz and Franz, as well as Rio and Rachael's mischievousness when in leopard form. As with Ms. Feehan's "Dark" series, the sex is spicy enough to singe your eyebrows as you turn the pages. This reviewer can't help but hope for another book set in the lair of the shapeshifters.

Do not miss WILD RAIN; it's a Perfect 10.
Reviewed by Kari Thomas
Five roses
LoveRomances.com
Add vivid imagery, dangerous situations, threatening enemies, and secrets that have no choice but to be exposed, and you'll find yourself turning those pages and hoping this story goes on forever! This reviewer loved how Ms. Feehan portrays the extremely sensual feelings between Rio and Rachel, drawing out the inner emotions, and culminating their love in a fiery explosion of passion and soul-felt love. Rio is a hero this reviewer sighs over; his strength, physically as well as mentally, his moral character, his alpha-male tendencies. And Rachel was a heroine that I love reading about. Her strength was amazing, and she's the perfect love for Rio.

Too, I love being able to "feel" the surrounding atmosphere of a story, and the Rainforest came alive for me in the pages of this book. Being a lover of the paranormal genre, especially shapeshifting stories, this reviewer devoured (uh, read,) this story all in one sitting. And I can't wait for future stories in this new series that's just as engrossing, as fascinating, as sensually passionate as her DARK series! Don't miss this one!
Reviewed by Jaymi
Five Angels
FallenAngelReviews.com
In the rain forests of Africa, Rachel awaits for her death. She thought she had escaped the United States unnoticed, but the several unfortunate incidents that had been plaguing her for days had Rachel thinking otherwise. Now Rachel waits for the perfect opportunity to convince those seeking her, of her 'death'.

Rio had been banished from his people for an intolerable crime committed in his youth. He lives in solitude, but they still utilize him for his skills. Rio suspected that there was another hit out on his life. When you did his kind of work, there were bound to be people you made unhappy. It didn't surprise Rio as much as irritate him when he becomes aware of someone in his home. What astonished him was that the people after him wound send a woman to kill him. Rio and his clouded leopards waste no time in neutralizing the threat. If the woman was harmed in the process, that was of no consequence to him. Only something inside him is appalled at the damage the clouded leopard had done to her leg; his companion had almost torn her leg off. The bruises around her neck and the swelling of her wrist, which he suspected he'd broken, were tangible evidence of his treatment of her. Why if she'd been sent to kill him, was this like acid to his soul; he'd harmed her, caused her pain and it's almost more than he can bear.

As Rachel recovers, Rio comes to the realization that she is not who he thought she was. His guilt is tenfold. As he deals with his guilt and tries to help her heal, he must reluctantly accept the significance she has in his life. With great reluctance, he realizes that Rachel is everything to him, for she is his mate. He knows this woman like he has known no other. He already discerns her likes and dislikes, how she feels and how she thinks, but most astonishing; he knows what it's like to be inside her, to make love to her. Rachel is in a great deal of pain, not only is she delusional, but at first he fears she's hallucinating. Only Rachel's hallucinations seem to mirror his dreams. They know each other; have been together, but how…in a past life?

As Rachel and Rio's feelings for one another deepen, there are still many unresolved issues. For one Rachel's uncle, her brother, or both of them are trying to kill her. Rio is not exactly human but he's not exactly not. Rachel doesn't know if she's losing what's left of her mind or if she actually saw Rio's face turn leopard like; and if he did and they are as connected as he claims, what exactly does that mean for her?

Christine Feehan delivers a passionate jam-packed adventure in Wild Rain. This story doesn't stop. It's thrilling, yet tender. Reading Rio and Rachel coming to love each other again was just awesome! Even mangled and bandaged up, Rachel is a strong heroine. She handles everything that is thrown at her with determination and dignity; she cowers from nothing, not even her own death. Rio is the perfect example of an alpha male. He is unyielding where Rachel safety is concerned, he will not allow anything to happen to her. Combined these two personalities and you have the makings of an explosive couple! Wild Rain is a most excellent read!!!