In her Drake Sisters novels, #1 New York Times bestselling author Christine Feehan delivers "everything her fans have come to expect" (Publishers Weekly). Now, she exceeds expectations as the fate of all seven sisters depends on the destiny of one.
From afar, Sheriff Jackson Deveau has always loved Elle Drake, the youngest telepath of seven sisters. After a long time away she's finally returning home to the small coastal village of Sea Haven. But someone has been following Elle, someone who doesn't want her to make it back. And when Elle fails to arrive, her disappearance strikes fear in the hearts of everyone who loves her. Now it's left to Jackson to uncover the mystery of Elle's vanishing, and rescue her from an unseen danger. But Sea Haven is no longer safe for anyone, and it'll take the powers of all the Drake sisters and their men to survive the coming storm.
"Christine Feehan has brought paranormal romance to a new high."—A Romance Review
"The Drake series is a complex blend of fantasy and suspense."—Booklist
"Feehan boldly goes where no writer has ever gone."—Fallen Angel Reviews
Click Here to Read Chapter 1
Release Date: June 30, 2009
Number of Pages: 480 pages
Publisher: Jove
Language: English
ISBN: 0515146471
---
~ORDER HIDDEN CURRENTS~
Order Mass Market Paperback

Amazon.com
BarnesAndNoble.com
Walmart.com

Ebook Format

Amazon.com (Kindle)
BarnesAndNoble.com (Nook)
ItunesApple.com (Ipad)
Ebooks.com (various devices)

Order Audio Book Format

Audible.com
BarnesAndNoble.com

Order UK Paperback Format

Amazon.co.uk
LittleBrown.co.uk

Order Largeprint Format

Thorndike.Gale.com

German Format: Sturm der Gefühle

Amazon.de (Print)
BarnesAndNoble.com (Nook)

Spanish Format: Corrientes ocultas
Hermanas Drake 7

Click here to Read Chap1
More info: LaRomanticaBooket.com
Order from: Amazon.co.uk
---

~AUTHORS NOTES ~

It's always sad to bring to close a series an author loves. I always look forward to visiting with the Drake Sisters and the town of Sea Haven. I love the close knit community and all the various people within it.

Elle's book was a difficult story to write for many reasons, not the least of which was because it was the saying goodbye to old friends. Within a series there are so many things already set and the author is confined to those circumstances. Not only did I have to say goodbye, but I had set in motion a human trafficking ring and Elle had gone undercover to stop it and had gone missing. I knew that was going to be a tough start to this story. I wanted to stay true to what really would have happened and that made it difficult.

Elle and Jackson together make a strong couple who are obviously good for one another. Couples work because when one falters the other stands strong. Love and family and togetherness is what makes the Drakes so incredible to me and the way they accept and aid family members in every crisis.

I sincerely hope you enjoy this story that concludes the story of seven sisters. It always begins a new chapter in Sea Haven and hopefully for my readers as well! *smiles mysteriously*
---

~HIDDEN CURRENTS PUZZLE~
---
~ELLE DRAKE'S JOURNAL~
---
~FOG: WHICH DRAKE SISTER ARE YOU?~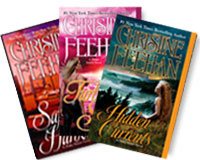 Take our new FOG online quiz Which Drake Sister Are You? to find out which Drake Sister you are the most like and to get the new Turbulent Sea Screensaver! You can post your results on myspace, facebook, or your favorite blog.
---
~HIDDEN CURRENTS BESTSELLER LISTS~
Thank you so much to all of my readers who purchased Hidden Currents on the first week of it's release (or anytime for that matter). Thanks to you, Hidden Currents made #1 on the New York Times upon its release for Paperback Mass-Market Fiction!!!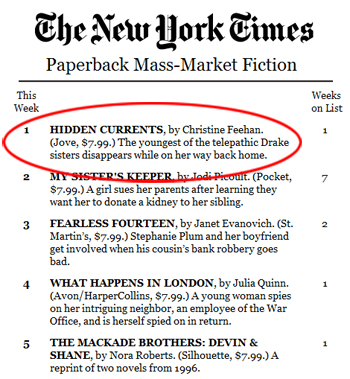 New York Times Bestseller List
Publishers Weekly Bestseller List
USA Today Bestseller List
Barnes & Noble Mass Market Bestseller List
Borders Bestseller List
ABA IndieBound Bestseller List
Washington Post Bestseller List
Wallmart Bestseller List
---
~HIDDEN CURRENTS REVIEWS~
Romantic Times
top pick
Review by Jill Smith
For the culmination of her Drake Sister's books, Feehan delivers a wrenching and turbulent story that explores the aftermath of torture. With protagonists who have suffered and a psychotic villain bent on destruction, you have the makings of a full blown finale. The Feehan name is truly synonymous with superb storytelling!