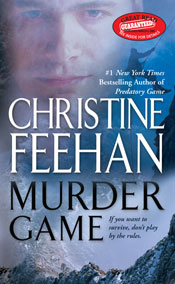 Return to the world of the GhostWalkers with "the queen of paranormal romance" (USA Today) as she raises the stakes in the ultimate game of love and death…
Games should be fun, but for two expert teams across the country, they're murder – because the winning team is the one that gets the most kills. The participants in this violent challenge rumored to be GhostWalkers. And Kadan Montague isn't happy about it.
Kadan is a GhostWalker and he's determined to clear the GhostWalker name of the rumors. To do it, he's going to need the help of psychic Tansy Meadows. But as soon as he sees her, he knows his mission will be more complicated than he imagined – and the "murder game" may not be at all what it seems.
Click Here to Read Chapter 1
Release Date: December 30, 2008
Number of Pages: 416 pages
Publisher: Jove
Language: English
ISBN: 0515145807

---
~ORDER MURDER GAME~
Order Mass Market Paperback

Amazon.com
BarnesAndNoble.com
Walmart.com

printable order form for bookstore

Order E-Book

Amazon.com (Kindle)
BarnesAndNoble.com (Nook)
ItunesApple.com (Ipad)
Ebooks.com (various devices)

Murder Game
Narrated by Tom Stechschulte

Audible.com
BarnesAndNoble.com
ITunes.com
BooksOnBoard.com
AudioBookStand.com
EMusic.com
Recorded Books

Order German Format: Magisches Spiel
Der Bund der Schattengänger 7


Order UK Paperback Format

Amazon.co.uk
LittleBrown.co.uk

Order Largeprint Format

Thorndike.Gale.com
Murder Game was a wonderful book to write. My hero continually surprised me. He was a very strong character and never let me get off track when I was writing his story. The moment I tried to lead him in a direction, he refused to go. I should have known, he took so long to speak to me. My heroine is a strong woman who needed to be very understanding with her man. I think she was really born for him. I loved both of them so much and I know this will remain one of my all time favorites.

---
~MURDER GAME BESTSELLER LISTS~
#1 New York Times Bestseller List
Publishers Weekly Bestseller List
USA Today Bestseller List
Barnes & Noble Bestseller List
Borders Group Bestseller List
Amazon Bestseller List
Thank you so much to all of my readers who purchased Murder Game on the first week of it's release (or anytime for that matter). Thanks to you, Murder Game made #1 on the New York Times upon its release!!!
---
~MURDER GAME BOOK TRAILER~
Login to the members section to view the full length trailer. The MURDER GAME TEASER is 30 seconds long and is currently available in the following formats:
Quicktime

-- You may need to turn the volume up on the Quicktime Player.
---
~MURDER GAME PUZZLE~


For more puzzles, login the members section.
---
~GHOSTWALKER T-SHIRTS
BY CAROL CARTER~
| | |
| --- | --- |
| | |
Click here to learn how to order.
Click here to learn about the GhostWalker Symbol.
---
~MURDER GAME REVIEWS~
Fresh Fiction
Review by Lory Martin
Kadan is a GhostWalker, one of an elite troop of soldiers enhanced both physically and psychically by a scientist with more than just these soldiers on his mind. The GhostWalker team has learned that not only is there more than one team of special soldiers, but that this evil man has also psychically and physically enhanced girls he got from war-torn countries as infants. Now the girls are grown and the scientist has found a way to tie each one to a GhostWalker using pheromones. His ultimate goal is to breed a new generation of soldiers; the progeny of the GhostWalkers and the girls.

In the meantime, he has other GhostWalker teams still under his control and one of the teams is rumored to have developed a game among themselves. A murder game, with the winner being decided by kills. This doesn't set well with Kadan, as it dirties the reputation of all GhostWalkers, besides killing innocent civilians. Kadan sets out to find the truth and stop the killing, but along the way he encounters Tansy Meadows, one of the scientist's girls. He needs Tansy's help, but as soon as he lays eyes on her, he knows she's the one for him. This complicates his mission in more ways than one and now he has her to protect -- whether she thinks she needs protecting or not -- and yet to clear the name of the GhostWalkers, which places them both in extreme danger. They must win this real game of life and death to claim the future that could be theirs.

MURDER GAME is a no-holds-barred adventure from the first page. Tansy and Kadan both will have you by the heartstrings and you won't be able to put this page-turner down. High praise for Ms. Feehan, as she once again delivers an action-adventure with a little extra. Gripping and well-written, MURDER GAME is all you've come to expect in a GhostWalker tale. Well done!