†




~SHADOW GAME~
Last Updated: March 06, 2015 11:14:48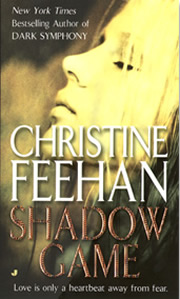 The classified experiment is the brainchild of renowned scientist Peter Whitney and his brilliant daughter, Lily. Created to enhance the psychic abilities of an elite squadron, it can transform their natural mental powers into a unique military weapon. But something goes wrong. In the isolated underground labs, the men have been dying-victims of bizarre accidents. Captain Ryland Miller knows he is next. When Dr. Whitney himself is murdered, Ryland has only one person left to trust: the beautiful Lily. Possessed of an uncanny sixth sense herself, Lily shares Ryland's every new fear, every betrayal, every growing suspicion, and every passionate beat of the heart. Together, they will be drawn deeper into the labyrinth of her father's past…and closer to a secret that someone would kill to keep hidden.
Click Here to Read Chapter 1
Release Date: August 26, 2003
Number of Pages: 352 pages
Publisher: Jove
Language: English
ISBN: 0515135968
---
~ORDER SHADOW GAME~
---
~AUTHORS NOTES~
I researched this book for more than two years. The heroine is a woman who is smart and clever and does what is necessary to do what she believes is right in spite of all odds against her. I love psychic connections and the interesting twists it can be used in a story line. This book provided me with great characters to work with. I can't wait for you to meet the men and women in this book.

---
~GHOSTWALKER T-SHIRTS
BY CAROL CARTER~
---
~SHADOW GAME AWARDS~
Nominated for the 2003 Romantic Times Award
for Best Contemporary Paranormal
---
~SHADOW GAME BESTSELLER LISTS~
NY Times Bestseller List
Waldenbooks Bestseller List
Borders Bestseller List
USA Today Bestseller List
B Dalton Bestseller List
Amazon Bestseller List
B&N Bestseller List
B&N Online Bestseller List
Walmart Bestseller List
---
~SHADOW GAME REVIEWS~
Reviewed by Publishers Weekly
Feehan's newest offering is as swift moving and sexually charged as her best vampire romances (Dark Destiny etc.) with none of their florid prose. In short, it is an electrifying read, one that should satisfy her fans and cement her reputation as the reigning queen of paranormal romance.
Having fast made a name for herself in the vampire romance realm, Feehan now turns her attention to other supernatural powers in this swift, sensational offering..... this is still the spine-tingling kind of read that her fans will adore.
From The Critics
Library Journal
Dr. Peter Whitney is the driving force behind a new government experiment aimed at enhancing the psychic abilities of a select group of volunteers in order to turn them into secret and lethal military weapons. But the experiment goes wrong, and some of the GhostWalkers, the men in the experiment, are dying.

Dr. Whitney brings his telepathic genius daughter, Lily, to the lab so that she can help assess the situation. However, before they can exchange notes, Dr. Whitney is killed, and as Lily links minds with him for one last time, he tells her to free the prisoners, find his secret lab, and destroy his work. Working to right her father's wrongs, Lily joins forces and minds with the highly telepathic Capt. Ryland Miller, one of the GhostWalkers, and finds a passion neither can deny.

One of the best current voices in the darker paranormal romance subgenre, Feehan has begun another series that, while lacking the fantasy feel of her Carpathian romances, is equally intense, sensual, and mesmerizing and might appeal especially to fans of futuristic romances. Known for her vampire tales, Feehan (Dark Symphony) is a rising star in paranormal romance; she lives in northern California. Copyright 2003 Reed Business Information
Reviewed By, Jill M. Smith
Romantic times

Top Pick!

Kicking off what looks like the beginning of a hot, new paranormal series, Christine Feehan delivers action, adventure and passion. Ryland and Lily's story is intense and sexy, and the rest of the GhostWalkers are just as interesting.
Reviewed by Gloria Kruenegel
Romance and Friends
Capt. Ryland Miller and his men all have extraordinary abilities that make them an elite group of military men. When Dr. Peter Whitney...a renowned scientist and creator of the elite fighting squadron better known as Ghostwalkers is murdered while trying to reverse the effects of his experiments, his only child, Dr. Lily Whitney is left to finish his work and find his killers. Lily has extraordinary mental powers and can communicate with Capt. Ryland. As the two try to find a way to save both their own sanity and the lives of the men Lily's father had compromised, they find they can help themselves best by becoming a team. Together, they uncover Lily's past and overcome the 'monsters' and nightmares that plague both their lives.

Just as I begin to think the romance genre has no where else to run, I get to read something that takes another giant leap down a totally unknown road! Ms. Feehan just kicks butt with her newest endeavor! Christine has taken romance, suspense and intrigue and the paranormal and combined it all to make for one of the most delicious journeys I have had the pleasure of taking in a long, long time! With just the right amount of sizzling romance and twisting, turning avenues of suspense the reader runs into the unknown paranormal detour to make for an exciting adventure that cannot be missed by any reader, no matter your genre preferences! This book definitely holds something for everyone!!! What a page turner!
Rating 5 Roses
Sensuality Scale: Flame Thrower
Reviewed by Darlene Howard
EscapeToRomance.com
Reviewers International Organization (RIO)
SHADOW GAME is a very fast paced action packed thriller/love story all wrapped up into one. A bit different than what I'm used to reading from Christine Feehan. However, if this is the type of thriller/love story that she will be turning out going forward, I vote that she continue with this line. I highly recommend this book and will be adding it to my keeper's shelf. This book was very well written. I could feel the action and pain the men suffered. I vote that "SHADOW GAME" become a series of it's own so that we can find out just what has happened to all the other players in the story. Do they find the lost girls? Will the other men continue as a unit or go their separate ways? Christine Feehan I look forward to reading your next book whether it's a new saga of the "DARK SERIES or another chapter to the SHADOW GAME.
Move over, Carpathians! The Ghost Walkers are in the building!

Christine Feehan has outdone herself this time. This is a kick butt, Take names action packed read and you won't want to put it down once you start it! I know I didn't…….. There was not anything I didn't like about this book. The characters, the plot, the scenery, it all dragged me in right from the very first paragraph. It is my sincere hope that Christine Feehan will see fit to write stories for the other Ghost Walkers. I know I'll be the first in line for each and every one of their stories!
In Christine Feehan's first installment of the "Ghostwalker" series, she grabs us from the first page with a gritty new storyline. Murder, betrayal and greed form the building blocks of this dynamic story. Lily and Ryland's fight against the greed and total disregard of the santity of the Ghostwalkers lives is complicated by their stark attraction to each other. Dare they trust in their attraction to each other or is it some genetically enhanced side effect of the experiments.

Ms Feehan tells an exquisitely elegant tale of love in the midst of distrust and betrayal, teaching us yet again that even in the darkest shadows there is hope and love waiting for you. In her award-winning style, she has again, as with her "Dark" series, made this reviewer marking her calendar for the release of the next "Ghostwalker" story.

Reviewed by Kelley Hartsell
http://www.lovesromances.com
http://www.thebestreviews.com

All this reviewer can say is WOW!!! Ms. Feehan packs such a punch with this story it will leave one gasping for breath. She conquers yet another genre of romance with ease, proving why she is a master. There is just enough of a touch of the "paranormal" to remind the reader where she got her start. But that is where the similarities between this story and the Dark saga end. Unless one counts the passionate relationship between hero and heroine that is so hot it will light the pages on fire.

Ms. Feehan wields the suspense blade with ease, keeping readers enthralled and teetering on the edge, from the very beginning. The roller coaster of action rolls on, twisting and turning, riding up and down breath-taking peaks and valleys, until the reader doesn't know which end is up … Or the good from the bad. This book is guaranteed not to disappoint, and will leave one begging for more. Fear not, another story is already on the way. This is a must-read book, only cementing Ms. Feehan's position as a genre favorite for yet another round.
Nichole Keeton, Reviewer
Old Book Barn Gazette
Filled with Ms. Feehan's usual strong, memorable characters (especially Ryland and his men - you have to love those alpha males!) and intricate storytelling, Shadow Game is a cross between a techno-thriller and a deeply moving love story. I loved this book, and though it's quite different than Ms. Feehan's beloved Carpathian series, I think you'll love it too. Dare we hope that Shadow Game is the first book in another superb series?