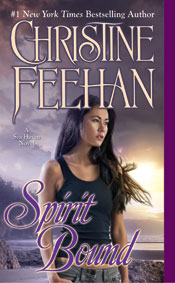 From #1 New York Times bestselling author Christine Feehan comes her stirring new novel in a magical "series of six sisters not of flesh and blood but of the heart…"*
Lethal undercover agent Stefan Prakenskii knew a thousand ways to kills a man—and twice as many ways to pleasure a woman. That's what made him look forward to his new mission: arrive in the coastal town of Sea Haven and insinuate himself in the life of an elusive beauty who had mysterious ties to his past, and a link to a dangerously seductive, and equally elusive master criminal who wanted only one thing: to possess her.
Judith Henderson was an artist on the rise—an ethereal, and haunted woman whose own picture-perfect beauty stirred the souls of two men who have made her their obsession. For years she has been waiting for someone to come and unlock the passion and fire within her—waiting for the right man to surrender it to. But only one man can survive her secrets, and the shadow she has cast over both their lives.
Click Here to Read Chapter 1
Visit the Members Section to chat about Spirit Bound

Release Date: December 27, 2011
Number of Pages: 432 pages
Publisher: Jove
Language: English
ISBN: 051514956X

---
~ORDER SPIRIT BOUND~
Order Mass Market Paperback

Amazon.com
BarnesAndNoble.com
Walmart.com

printable order form for bookstore


Order E-book Paperback

Amazon.com (Kindle)
BarnesAndNoble.com (Nook)
ItunesApple.com (Ipad)
Ebooks.com (various devices)


Order UK Format

Amazon.co.uk
LittleBrown.co.uk


Order Largeprint Format

BarnesAndNoble.com
---
~SPIRIT BOUND KALEIDOSCOPE~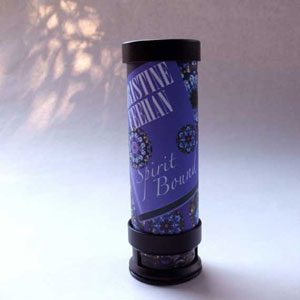 Designed to celebrate the publication of Christine Feehan's newest book in the "Sisters of the Heart" series, this kaleidoscope tells the story of Judith and Stefan. In chapter 15, she teaches him how to make a kaleidoscope - and here it is. Relive their adventures and romance...
Purples dominates the color scheme but you will also find the blood spattered snowflake, crystals, and strands of Judith's long silky hair.
Signed by author Christine Feehan and available exclusively here.

Your actual scope will come fitted with the 7 point mirror system that Stefan chose in the book.
Price: $190.00 (to purchase this or any other scope, click here to visit their "shopping" page)