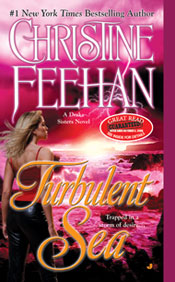 Number-one New York Times bestselling author Christine Feehan returns to the "erotic, exotic, and suspenseful"* world of the paranormally gifted Drake sisters with the wildest sister of them all: impulsive, celebrated, worshipped…and in danger.
The star: Joley Drake was born with a legacy of unexpected magical gifts, but it was the gift of singing that made her an overnight sensation—a rock and roll goddess trapped by fame, fortune, and ambition. Heated by the flush of success, Joley could have any man she wanted. But there's only man who can give her what she really needs.
The bodyguard: Ilya Prakenskii, cool, inscrutable, dangerously sexy, and working in the shadow of his infamous reputation—that of a secret Russian hit man on the payroll of a notorious mobster. He's the last man Joley should get close to, yet when her life is threatened on tour she has nowhere left to turn. But in the seductive safe keep of Ilya's embrace, is Joley really as secure as she imagines?
Click Here to Read Chapter 1
Release Date: July 29, 2008
Number of Pages: 320 pages
Publisher: Jove
Language: English
ISBN: 0515145068
---
~ORDER TURBULENT SEA~
Order Mass Market Paperback

Amazon.com
BarnesAndNoble.com

printable order form for bookstore

Order E-Book Format

Amazon.com (Kindle)
ItunesApple.com (Ipad)
BarnesAndNoble.com (Nook)
Ebooks.com (various devices)

Order Audio Book Format

Audible.com
BarnesAndNoble.com

Order UK Paperback Format

Amazon.co.uk
LittleBrown.co.uk

Order Large Print Format

BooksAMillion.com
Thorndike.Gale.com

German Format: Gesang des Meeres

Amazon.de (Print)
BarnesAndNoble.com (Nook)

Spanish Format: Mar Turbulento
Hermanas Drake 5

Click here to Read Chap1
More info: LaRomanticaBooket.com
Order from: Amazon.co.uk (out of stock)
---

~AUTHORS NOTES ~


Joley Drake has an enormous career, the most famous of all the Drake sisters, her voice loved by millions. On her world tour, she finds both adoration and danger. Somewhere there is someone who loves her. There is someone who hates her. And there is someone who is working behind the scenes to destroy everything she is, everything she loves and believes in.

Ilya Prakenskii has the reputation of a Russian hit man. He works for a notorious mobster and yet, he has ties to the Drake family and in particular Joley Drake. When things begin to go terribly wrong on Joley's tour, Ilya steps in to protect her, much to her dismay. Two strong personalities, powerful magic and danger at every turn keep Joley and Ilya in the midst of a turbulent sea.
---
~TURBULENT SEA FAQ'S ~
FAQ) Who are the cover models for Turbulent Sea?
The male model for the stepback is Devin Eldridge. We are still working on finding out who was the female model for the front cover.


---
~TURBULENT SEA BOOK TRAILER~
Just posted in the Members Section is the Making of Turbulent Sea article & some screen captures of the shoot. Enjoy!
With lyrics by Sheila Clover English form Circle of Seven Productions and music by CORVO we are very excited about this unique music video book trailer for Turbulent Sea. Please check back soon for an advanced pre-view of the full length trailer on my homepage & myspace page!
---
~TURBULENT SEA SLIDE SHOW~

---

~TURBULENT SEAS PUZZLE~
---
~JOLEY DRAKE'S JOURNAL~
---
~FOG: WHICH DRAKE SISTER ARE YOU?~
Take our new FOG online quiz Which Drake Sister Are You? to find out which Drake Sister you are the most like and to get the new Turbulent Sea Screensaver! You can post your results on myspace, facebook, or your favorite blog.
---
~TURBULENT SEA BESTSELLER LISTS~
New York Times Bestseller List
Publishers Weekly Bestseller List
USA Today Bestseller List
Barnes & Noble Mass Market Bestseller List
Borders Bestseller List
Amazon Bestseller List
Booksense Bestseller List
Walmart Bestseller List
Washington Post Bestseller List
---
~TURBULENT SEA REVIEWS~
Romantic Times –
– Hot
Reviewed by by Jill M. Smith
Book after book, the suspense has been building toward the fireworks promised by the dangerous pairing of potential lovers Joley and Ilya. The Drake Sisters novels have always been about family loyalty and trust- things that this damaged hero has never experienced. Feehan's gift for compelling characterization is spot on and makes the relationship between this combustible duo aces!
(Jove, Aug., 325 pp.,)