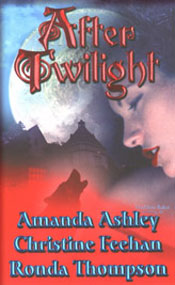 A man hunts a woman. Yet what if he is no ordinary man, but a predator in search of prey? A dark soul looking for the light? A vampire, a werewolf, a mythic being who strikes fear into the hearts of mortals?

Three of romance's hottest bestselling authors invite you to explore the dark side, to taste the forbidden, to dive into danger with heroes who fire the blood and lay claim to the soul in these striking tales of sensual passion.
When day fades into night, when fear becomes fascination, when the swirling seduction of everlasting love overcomes the senses, it must be…
Click Here to Read Prologue
Click Here to Read Chapter 1
Other Authors: Amanda Ashley & Ronda Thompson
Release Date: September 2001
Number of Pages: 400 pages
Publisher: Love Spell
Language: English
ISBN: 0505524503
Mass Market Paperback

Amazon.com
BarnesAndNoble.com

printable order form for bookstore

Order Ebook Format

Amazon.com (Kindle)
BarnesAndNoble.com (Nook)
ItunesApple.com (Ipad)
Ebooks.com (various devices)
This anthology was very important to me to be a part of as I wanted to thank you for your fantastic support. I have brought together two special people for a journey into a magical tale of timeless love. More importantly, I wanted to share with you a true storyteller, unsurpassed in her craft, Amanda Ashley. That is the highest compliment I could ever pay a writer. I love her books and each one has a place on my keeper shelf. Ronda Thompson is a more recent discovery for me and she can make you laugh or cry or make the hair on the back of your neck stand up, but most importantly, she waves a tale of pure romance!
---
~AFTER TWILIGHT AWARDS & HONORS~
Winner for 2001 PEARL Award
for Best Anthology

Winner for 2001 PEARL Award
for Best Novella / Short Story: Dark Dream

2nd Place for RIO Dorthy Parker Awards
for Contemporary / Historical Anthology

Winner for 2000 Love Romances
Reader's Choice Award
for Best Paranormal Romance

Recommended by Barnes & Noble
---
~AFTER TWILIGHT BESTSELLER LISTS~
Barnes & Noble Bestseller List
Waldenbooks Bestseller List
USA Today Bestseller List
NY Times Bestseller List
Siren Books Bestseller List
Walmart Bestseller List
---
~AFTER TWILIGHT REVIEWS~
The Romance Readers Connection
Reviewed by Amanda Killgore

MASQUERADE
Amanda Ashley

From the first moment I began this story, I was captivated by its haunting beauty.

As he watches PHANTOM OF THE OPERA, Jason, the darkly beautiful vampiric hero of the story, is captivated by the lovely mortal, Leanne, who is the image of his first love. In a way, their story is a reflection of the one she participates in on stage. After they meet and fall in love, Jason realizes that to love her, he must leave her lest one of them be destroyed; but he keeps on holding onto their love for just one more day. When Leanne discovers the truth about the man she loves, what will the fate of their love be?

As I read this story, I could hear the soundtracks of PHANTOM, JEKYLL AND HYDE, and even HIGHLANDER in my heart. Jason's tortured love for Leanne, the yearning for a love that can never be, is perfectly captured in this tale that brings more than one tear to the eye and at least one smile. I do, however, have a major complaint with it; I wanted a whole book about these characters.

DARK DREAM
Christine Feehan

Gladly, I return to the world of the Carpathians, where the males live in darkness until love awakens their hearts. This chapter of the saga concerns Falcon, an ancient warrior of that race, who has sought his true love for centuries, for only she can save him from becoming a vampire, a beast driven to kill and destroy. When he rescues Sara Marten from a gang of street punks, he knows he has found the woman he has sought all his life.

Sara has spent fifteen years hiding from a vampire who destroyed her family when she was a girl. At first, she believes Falcon to be him, or something like him. When she learns the truth, she accepts what must be, but holds off on committing to him until the children she has been rescuing and caring for are safe. Will she be able to escape the one who wants her death and give her love to her destined mate before he becomes a monster equal to the one hunting her?

While this story is understandable even if you have not read the rest of the series, it is so much better if you are familiar with the setting and the recurring characters who appear therein. Falcon and Sara make a wonderful couple, both strong in places that offset the other's weaker spots. Again, Ms. Feehan's gamble in changing the vampire legend pays off richly for her readers.

MIDNIGHT SERENADE
Ronda Thompson

When Stephanie rescues an injured wolf from illegal hunters, she has no idea what an incredible adventure is ahead of her. Tracking the injured creature to a cabin, she finds not a wolf, but the most amazing man she has ever seen. She and Rick are instantly drawn to one another, but he is haunted by a terrible secret-- he is the wolf. Three years ago, he and his brother, Jason, were bitten by a werewolf, and have sought to free themselves of the curse ever since. He has longed for death, but now has love to consider. Yet, this seems impossible. Inadvertently, he had bitten Stephanie, and now she is slowly becoming a creature like himself. Her only salvation lies in the death of the one who infected her. To save the one he loves, Rick must die-- just when he wants to live most.

This chilling, haunting tale was the first I have read by this author, and now I truly look forward to reading more of her work. Rick is a wonderfully tortured hero without falling into the trap of being stereotypical. Stephanie matches him perfectly with her strength and the compassion she exhibits. This story blends the more traditional werewolf legends with modern interpretations excellently. I hope the brother gets his own story someday.

Overall, this is a wonderful collection; and I am not one to often read anthologies. Once again, I must say that the only real fault in any of these stories is that they were not full length novels. They will chill you even as your heart warms.