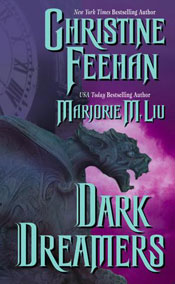 DARK DREAM
by Christine Feehan
She's known him since she was fifteen. Every night, he is with her: his face, his voice. Tonight, Sara Marten will meet the man who is both angel and demon, salvation and temptation: Falcon—the Carpathian, the banished hero. Tonight, Sara will meet the dark-eyed destroyer destined to be her mate..
A DREAM OF STONE AND SHADOW
by Marjorie M. Liu
There are those who do terrible things in this world, and those who simply watch. Charlie would do neither. Imprisoned, his only release is through his own destruction—or through Aggie Durand. Sweet as a kiss or a rescued child, she is the one dream he does not dare desire. As an agent of Dirk & Steele, she could be his salvation. Today, Charlie's dream is waking...
Click Here to Read Prologue
Click Here to Read Chapter 1
Other Author: Marjorie M. Liu
Release Date: August 29, 2006
Number of Pages: 384 pages
Publisher: Leisure Books
Language: English
ISBN: 0843956879
This is a re-issue of my novella titled
Dark Dream
. It was originally released in an anthology titled
After Twilight
.
Dark Dreamers
features a brand new story by
Marjorie M. Liu
titled
A Dream of Stone and Shadow
. Marjorie is a wonderful writer and a wonderful person. I hope you enjoy!
---
~DARK DREAMERS BESTSELLER LISTS~
New York Times Bestseller List
USA Today Bestseller List
Publisher's Weekly Bestseller List
Barnes & Noble Mass Market Bestseller List
Bookscan Bestseller List
Border's Group Bestseller List
Amazon Bestseller List
Walmart Bestseller List
---
~DARK DREAMERS REVIEWS~
The Romance Readers Connection
Reviewed by Amanda Killgore

DARK DREAM
Christine Feehan

Gladly, I return to the world of the Carpathians, where the males live in darkness until love awakens their hearts. This chapter of the saga concerns Falcon, an ancient warrior of that race, who has sought his true love for centuries, for only she can save him from becoming a vampire, a beast driven to kill and destroy. When he rescues Sara Marten from a gang of street punks, he knows he has found the woman he has sought all his life.

Sara has spent fifteen years hiding from a vampire who destroyed her family when she was a girl. At first, she believes Falcon to be him, or something like him. When she learns the truth, she accepts what must be, but holds off on committing to him until the children she has been rescuing and caring for are safe. Will she be able to escape the one who wants her death and give her love to her destined mate before he becomes a monster equal to the one hunting her?

While this story is understandable even if you have not read the rest of the series, it is so much better if you are familiar with the setting and the recurring characters who appear therein. Falcon and Sara make a wonderful couple, both strong in places that offset the other's weaker spots. Again, Ms. Feehan's gamble in changing the vampire legend pays off richly for her readers."
Romantic Times
If you're looking for exceptional paranormal stories, this dazzling anthology delivers. Feehan's riveting Carpathian novels are proven winners, as "Dark Dream," a story first published in 2001's After Twilight anthology, easily demonstrates. Elevating the book further is Liu's "A Dream of Stone and Shadow," where this talented newcomer adds an exciting and unforgettable new twist to her rapidly evolving Dirk and Steele series.
Romance Junkies
For paranormal enthusiasts DARK DREAMERS is a great opportunity to become acquainted with Christine Feehan's New York Times best selling Dark Series and to read up and coming USA bestseller Marjorie M Liu's new Dirk and Steele story. From the Carpathian Mountains to crisscrossing the USA these two authors have you battling alongside Falcon, Sara, Charlie and Aggie while they battle the evil that preys on children using every paranormal ability at their disposal. As with all great romance writers, Ms. Feehan and Ms. Liu will have you all wrapped up in the drama of saving the innocent and the passion of true love. A great combination to remind us that love and the forces of good can and will triumph over evil, a reminder we can all use in today's world
Library Journal
Liu's exceptionally original tale is the latest in her "Dirk & Steele" series and returns to her world of telepaths, shape-shifters, and other unusual creatures for a story of enchanted gargoyles and villains who prey on children. A clairvoyant agent and an imprisoned gargoyle find impossible love in a sensual tale that will have readers guessing until the end."
A Romance Review
Reviewed by Cynthia
With two talented authors in their "stable", Dorchester Publishing has offered readers a special treat. Dark Dreamers brings two fine paranormal series together in one book. Fans will get to read a Carpathian novella from Christine Feehan and then experience the world of Dirk and Steele with Marjorie M. Liu. The results are spectacular.

Dark Dream may be a novella, but it contains all of the passion and excitement of a full book. Readers will be captivated by Falcon's story, and enchanted by Sara and her heart full of love. Author Christine Feehan's exquisite skill is evident in all of the little details that make this story a page-turning delight.
Romance Reviews Today
Reviewed by Jennifer Bishop
Dark Dream, first published in the 2001 anthology AFTER TWILIGHT, is a stirring tale of two lost, lonely souls finding each other. Sometimes in a novella, it is hard to believe that a couple could fall in love so quickly, but Ms. Feehan makes it believable. At fifteen, Sara found the diary written to "my lifemate," and somehow knew it was written for her. For that reason, when she recognizes Falcon, it is easy for her to accept him, and she's already a bit in love. Falcon, of course, understands the concept of a lifemate, and therefore knows without a doubt that Sara is the one person in creation made for him. Their path will not be simple though, as Sara's enemy is an ancient one who will not give up the chase easily.