AFTER THE MUSIC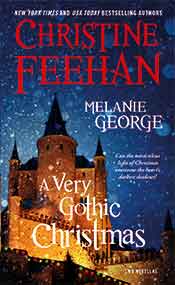 novella by Christine Feehan
Terrified by mysterious threats, Jessica Fitzpatrick spirits away her twin wards, Tara and Trevor, to the remote island mansion of their estranged father, world-famous musician Dillon Wentworth. Ever since the fire that claimed his troubled wife's life and left him horribly disfigured, Dillon has shut out the world. With Christmas approaching, the spark between him and Jessica might light the future, but there are those who shared Dillon's wife's love of the occult…and their evil machinations threaten everything.
LADY OF THE LOCKET
novella by Melanie George

The echoes of history and romance lure Rachel Hudson to Glengarren, the Scottish castle where her parents met many Christmas ago. But it is the portrait of fierce Highlander Duncan MacGregor that sparks an inexplicable yearning inside her. On a storm-tossed night, as lightning cracks across the castle's turrets, Rachel finds herself face-to-face with MacGregor himself, astride a might stallion on a windswept battlefield. Now, stepping ino Rachel's time-and her heart-the warrior from the past is pursued by an ancient evil enemy…
Click Here to Read After The Music Chapter 1
Release Date: October 31, 2017
Number of Pages: 432
Publisher:Pocket Books
Language:English
ISBN: 1501160982

Original Release Date: November 1, 2002
Number of Pages: 432 pages
Publisher: Pocket Books
Language: English
ISBN: 0743442717
---
~ORDER A VERY GOTHIC CHRISTMAS~
---
~A VERY GOTHIC CHRISTMAS AWARDS~

Finalist in the 2001 PEARL Awards
for Best Anthology
---
~A VERY GOTHIC CHRISTMAS
BESTSELLER LIST~
Waldenbooks Bestseller List
Barnes and Nobles Bestseller List
USA Today Bestseller List
Waldenbooks Bestseller List
Walmart Bestseller List
Sirenbooks (Australia) Overall Bestseller List
Sirenbooks (Australia) Overall Paranormal List
---
~A VERY GOTHIC CHRISTMAS REVIEWS~
Reviewed by Susan Lantz
HOST EBK Susan
AOL Romance Fiction Forum Team Captain
The story is highly satisfying, with enough red herrings to make you never quite sure who is doing what to whom, and an ending that is a perfect mix of creepiness, excitement and a little something extra.
Reviewed by Kathy Boswell
Member, Reviewers International Organization (RIO)
E-book and Small Press Reviewer for Romantic Times
Even though this was a novella in an anthology, I didn't feel as if I were shortchanged in this captivating story. I am an avid fan of gothics and Christine Feehan has written a gothic novella that is not only a page turner but is highly recommended!
Reviewed by Gloria Kruenegel
Romance and Friends
In this as in other Feehan works, the recipe for a wonderful read is mixed with just the right ingredients for "perfect"! One gritty heroine washed with love and a heart of gold.... One selfish, but thoroughly redeemable, hunky hero.... Stir briskly with a cup of mystery and angst... Add two precocious teenage twins, and blend with a large dash of fun. Mix in several zany but lovable sub-characters! Add one dastardly dash of misguided villain. Set all on a desert island in a gothic mansion. Bake all on sizzle for a complete story of mystery, love, Christmas Miracles, and what Ms. Feehan does better than anyone: romance that just knocks your socks off!
Reviewed by Darlene Kendall
Rendezvous Magazine
Ms. Feehan creates fresh and original tales in more than one genre. Her talent is outstanding and her tales contain a fascinating blend of savory passion, diverse and unusual characters and enchanting plots. After The Music is just a taste of what's in store for readers by this author, whose fast rise to the top is definitely assured by the stories she delivers.
Reviewed by Suzanne Coleburn
The Belles and Beaux of Romance
Christine Feehan hooked me from page one with the dark and stormy night and the great gothic theme. AFTER THE MUSIC is a modern day gothic tale that will thrill you and chill you, and there is plenty of sexual tension and wild romance to heat the blood as well."..."I Fell Head Over Heels For the Gorgeous Dillon! Whoo Hoo, I'd love to Spend some Time with Him!!!
Reviewed by Barb Hicks
A VERY GOTHIC CHRISTMAS is an anthology featuring popular writers Christine Feehan and Melanie George. Both authors give you a story that shows things can go bump in the night any time of the year.

Christine Feehans' AFTER THE MUSIC reunites Dillon with his twins and Jessica the person who he couldn't keep out of his head. Burned in a terrible accident years earlier, Dillon hid away in the house that he built. Convinced he had nothing to offer the people that he loved. Jessica has brought the twins to be reunited with their father, because she knew he would keep them safe.

In LADY OF THE LOCKET by Melanie George, Rachel travels to Scotland to an old castle to honor the last request of her parents. What she finds there is something else. During a terrible storm, she hears a noise and finds Duncan MacLeod the original owner of the castle. What is she going to do when she finds herself attracted to a man, who is from another time.

I enjoyed both stories, LADY OF THE LOCKET was my first story by Melanie George, but it won't be my last. It was funny and sweet. AFTER THE MUSIC is a feel good story. It is fun watching the ice melt within Dillon. The secondary characters were fun and would love to revisit them.
A VERY GOTHIC CHRISTMAS will have you believing in miracles.