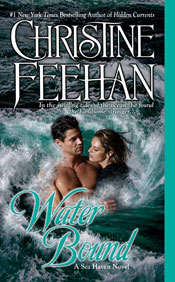 Christine Feehan's #1 New York Times bestselling Hidden Currents may have closed the Drake Sisters saga—which "brought paranormal romance to a new high"*--but it has opened the door to an all~new series of startling magic, mystery, and the soul~stirring elements of nature….
The last thing Lev Prakenskii remembered was being lost in the swirling currents of the ocean and getting sucked deeper into the nothingness of a freezing black eddy off the coastal town of Sea Haven. Just as quickly, just a miraculously, he was saved—pulled ashore by a beautiful stranger. But Lev has no memory of who he is—or why he seems to possess the violent instincts of a trained killer. All he knows is that he fears for his life, and for the life of his unexpected savior.

Her name is Rikki, a sea~urchin diver in Sea Haven. She has always felt an affinity for the ocean, and for the seductive pull of the tides. And now she feels drawn in the same way to the enigmatic man she rescued. But soon they will be bound by something even stronger, and their tantalizing secrets will engulf them both in a whirlpool of dizzying passion and inescapable danger.
Click Here to Read Chapter 1
Visit the Members Section to chat about Water Bound

Release Date: July 27, 2010
Number of Pages: 480 pages
Publisher: Jove
Language: English
ISBN: 0515148245

---
~ORDER WATER BOUND~
Order Mass Market Paperback

Amazon.com
BarnesAndNoble.com
Walmart.com

printable order form for bookstore


Order E-Book

Amazon.com (Kindle)
BarnesAndNoble.com (Nook)
ItunesApple.com (Ipad)
Ebooks.com (various devices)


Order Audiobook Format

BarnesAndNoble.com


Order Largeprint Hardcover

BarnesAndNoble.com


Order UK Format

Amazon.co.uk
LittleBrown.co.uk



Order German Format
Gebieterin des Wassers

Amazon.de (Print)
BarnesAndNoble.com (Nook)

---

~AUTHORS NOTES ~


I've always been intrigued with sea urchin divers and their unique take on life. They're mavricks and have their own code of honor. Rikki is a high functioning autistic with sensory dysfunction. I love her character and enjoy her reactions to things. My hero, Lev Prakenskii is all about survival. His instincts and her way of life are on a major collision course! I hope you all enjoy them as much as I have been while writing their story.
---

~WATER BOUND JIGZONE PUZZLE~
---
~WATER BOUND REVIEWS~
Romantic Times Magazine
4 ½ stars Top Pick
Reviewed by Jill M. Smith
The always brilliant Feehan launches an offshoot series from her recently completed Drake sisters saga. In the Sea Haven stories, elements of nature will be a key focus, along with an exciting combination of mystery, danger and magic. In Rikki Sitmore, Feehan has created an inspiring heroine who faces the challenge of autism. Her hero, Lev Prakenskii, has his own immense baggage, so the collision of their lives provides readers with an action-packed and romantic tale. Awesome as always!
Night Owl Reviews
Top Pick

Reviewed by Diana
A fan of Christine Feehan's Drake Sisters series will LOVEEEEEE this opening book in her new series of a group of 6 sisters not of flesh and blood but of the heart. You get 6 courageous women that meet at grief counseling, each with an amazing gift of their own. If this first book is any indication, it is going to be as much a time stealer as the Drake Sisters books were. Not that this is a bad thing...trust me. The story drew me in and would not let me go until it was finished and then I just want more. Waiting with bated breath for the next book to be available.