~NOW IN STORES: COVERT GAME~
---
~NOW IN STORES: JUDGMENT ROAD~
---
~LIMITED EDITION: OCEANS OF FIRE~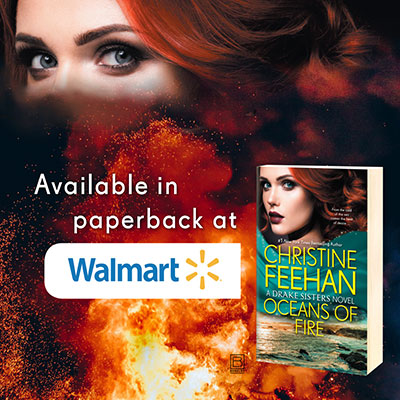 For a limited time, only at your local Walmart,
get this special edition of Oceans of Fire with this gorgeous new cover.
Look for the rest of the Drake Sisters Novels
with matching covers throughout 2018!
You can also get these new covers in e-book format!
---
~BACK IN PRINT: DARK MAGIC~
---
~BACK IN PRINT: A VERY GOTHIC CHRISTMAS~
---
~NOW IN STORES : LEOPARD'S BLOOD~
---
~NOW IN STORES: DARK LEGACY~
---

~MOBILE-FRIENDLY VERSION OF THIS SITE~
The mobile-friendly version of this site is now active! So is the mobile-friendly version of our community. If you are on mobile device, you will be automatically directed to the mobile site. For more information, read our Mobile Site Help page, which you can always get to by clicking the button in the menu on the left of every page.
---
~LATEST CF NEWS~
Currently, I have five series: Dark Series, GhostWalkers, Drake Sister Series, Sisters of the Heart Sisters, & Leopard Series. I also have several Christmas Stories and single titles in print.
Latest News: Power Game, the next book in my GhostWalker Series, is available as of January 24th, 2017. Bound Together, the next in the Sea Haven / Sisters of the Heart Sisters, is available as of March 21, 2017. I will be releasing the first of a new series titled Shadow Reaper on May 30th, 2017. Dark Legacy, the next in the Dark Series will be out September 5th, 2017. Leopard's Blood, the next book in the Leopard Series, will be released October 24th, 2017.

I also have three re-issues coming out. Dark Promises will be re-issued in paperback on February 21st, 2017. Power Game will be re-issued in paperback fromat on June 20, 2017. Dark Carousel will be re-issued in paperback on July 25, 2017.
---
~AUTHORS NOTES~
I really appreciate those of you have taken the time to let me know you have enjoyed my books. Thank you for visiting my website -- feel free to look around. The first chapter (UNEDITED) of each of my books is posted on here for your reading pleasure. I'm looking forward to reading all of your comments on the community pages in my members section, in my guestbook, or in my email.
PLEASE NOTE: I do not use material from readers in any of my books, so I will not be able to consider any suggestions you have about future books. But please write to me about any other subject. I love hearing from you!